Information services
Homepage » Contacts » Information centers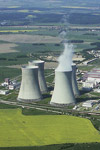 The Temelín Nuclear Power Station is situated about 24 km away from České Budějovice and 5 km from Týn nad Vltavou. Electricity is generated in two production units with VVER 1000 Type V 320 pressurized-water reactors. map
The Dukovany Nuclear Power Station is situated approximately 30 km southeast of Třebíč, in a triangle formed by the municipalities of Dukovany, Slavětice and Rouchovany.
Excursions to all the facilities of coal-fired power stations of ČEZ, a. s., can be arranged.
The pumped-storage Dalešice Hydro Power Station was built between 1970 and 1978 on the Jihlava river in the area of the Kramolín municipality. The fill dam is 104 m high and the power station is equipped with four sets of reversing Francis turbines, each with a capacity of 112.5 MW.
The pumped-storage Dlouhé Stráně Hydro Power Station is situated in the Protected Landscape Area of Jeseníky. Many of its facilities are located under ground, and those above ground have been incorporated in the nature with a great care for it.
The Lipno I Hydroelectric Power Station is a part of the Vltava Cascade. Its water reservoir, covering an area of almost 50 km2, forms the largest artificial lake in the Czech Republic.
The Štěchovice water reservoir was built between 1938 and 1944. The concrete dam with a granite revetment is 22.5 m high and 120 m long, with five spillways with crest gates. These spillways with the capacity of 2,400 m3/s are able to handle floods as catastrophic as the one in 1890.
Top
---
Menu: