Services
Basic overview
Telco Pro Services, a. s. is a telecommunication operator having at its disposal extensive infrastructure based on both classic TDM data and voice service systems (PDH/SDH, a network of digital PBXs including transit exchanges) and advanced data networks built on a universal multi-service architecture platform (MPLS).
As most of our infrastructure is located at energy-related facilities, the greatest part of our activities previously focused on communication support for power grids. However, with our own interconnection nodes at most major POPs in the Czech Republic, we now also pursue business activities in other segments of the telecommunication market and business sector, especially in inter-operator interconnection, circuit leasing, and last but not least the provision of various types of connectivity.
This business focus has shaped a wide range of telecommunication services encompassing both services frequently requested by the market and customer-oriented solutions.
Publicly accessible electronic communications services
The company is an alternative telecommunication operator providing standard public voice services for calling both within the Czech Republic and abroad. The services are provided by direct connection in our own voice network or interconnection with the networks of all major operators. A major share of the portfolio consists of internet connectivity services offered wholesale, which enables the company to provide a vast network of connection points, its own high performance grid and high-speed international connections. The conditions for providing services are set in accordance with legislation governing operation of electronic communications services.
Data and voice services in corporate networks
A dominant share of Telco Pro Services' business consists of the delivery of data and voice communication services within CEZ Group companies' corporate information system. The basis for the operation of these services is the company's own private data and voice networks, which ensure users' connectivity with the systems running in data centres, interconnection of users for cooperation purposes (teleconferences, video conferences) and fixed telephony services in a private telecommunications network and services whose basis is wireless connectivity supporting user mobility.
Data communications for control system operation
Telco Pro Services' close relationship with companies involved in electricity generation and distribution has expanded its range of traditional telecommunication services to include telematics services. A basic characteristic is the company's own grid operated by Telco Pro Services a.s., which in its quality and reliability exceeds regular standards on the market and enables fully redundant data transfers for communication of control systems and control of the distribution system..
Leased data circuits, services for operators and ISPs
The sufficient transmission capacities and good qualitative parameters of its telecommunication networks allow the company to offer its services on the telecommunication market. Telco Pro Services a.s. therefore can offer leasing of data bandwidth, create a private virtual network, internet connections or leasing of fibre optics. The company's primary business orientation is on telecommunication operators and internet service providers, applying a wholesale model.
Control systems for the energy sector
We build and service control systems and service ripple-control transmitters, mostly at CEZ Distribuce substations and transformer stations. We also refurbish and service control units for remote-control section switches and distribution transformer stations. In collaboration with our stable partners, we can also implement control systems for corporate power facilities.
Dispatch control of renewable energy sources
In designing, delivering, installing, and commissioning dispatch control systems for renewable energy sources, we build on our long-term experience in the field, gathered since 2010 from more than a hundred photovoltaic power plants, CHP units, biogas plants, wind farms and small hydropower plants. Our important customer in this field is CEZ Energo, s.r.o. Implemented systems are designed in compliance with the requirements of CEZ Distribuce, a.s. RTU7-series units are used for data collection and measurement and control for active power regulation.
Custom solutions
To meet our customers' individual requirements, we also offer custom solutions extending up to corporate network environments that require added value in the form of design, construction, administration, and operation, including servicing. We commonly deliver services as "Managed Services," with the customer receiving a service whose delivery is managed completely throughout its life cycle.
Administration of customer operated/owned technologies
Our employees' high expertise and the portfolio of technologies we operate allow us to utilize our available capacity to take care of the operation of customer technologies. We currently administer some of our customers' technologies in this way. This is a 24/7 service activity including monitoring and independent handling of operating conditions with no need for interaction with the customer.
Service and support
Service and support play an important role in the provision of telecommunication services. High demands placed by customers from the energy sector on the quality of services required us to create a robust service model based on deep knowledge of our own technical personnel working 24/7. This created the conditions for SLA-based service delivery, guaranteeing precisely specified parameters for service levels.
Locations and network map
Telco Pro Services a. s. makes use of extensive fibre optic infrastructure owned by CEZ Group and ČEPS. Our robust telecommunication networks ensure high reliability, flexibility, guaranteed speed, and stability of provided telecommunication services.
Network map
Fibre optic network of Telco Pro Services, a.s.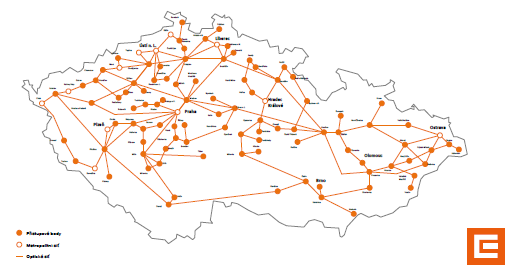 A list of access points in the telecommunication network of Telco Pro Services, a. s. can be found HERE  
Customer references
CEZ Group, electricity generation, distribution, and sales
T-Mobile Czech Republic a. s., telecommunication operator                      
Česká Pošta, s. p., public administration
Dial Telecom, a. s., telecommunication operator
O2 Czech Republic a. s., telecommunication operator
České radiokomunikace a. s., telecommunication operator
ČD - Telematika a. s., telecommunication operator
STOCK Plzeň – Božkov s. r. o., producer of spirits
ČEPS, a. s., operation of the electricity transmission system