Renewable Resources Information Centre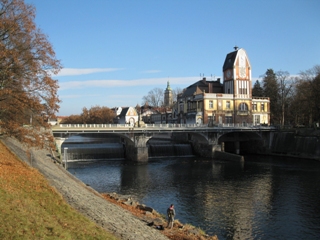 CURRENTLY: During the modernization of the small hydroelectric power plant Hučák until about mid-2019, the space of its engine room will not be accessible to the public during the excursion of the small hydro power plant.
Free excursion! The exhibition features the historical exhibits documenting the tradition of the renewable resource utilisation as well as the modern interactive exhibits that will introduce renewable resources in an entertaining playful form.
The tour of the information centre may also include a visit of the Hučák Small Hydroelectric Plant. Hučák is situated directly on the Elbe Cycle Route.
Where can you find us?
Renewable Resources Information Centre
Křižíkova 233
500 03  Hradec Králové
Tel.: 492 122 660, 725 781 564, 725 781 565
GPS: 50°12'27.36"N, 15°49'36.24"E
ENJOY THE INFORMATION CENTRE AND SMALL HYDRO POWER PLANT HUČÁK!
When can you visit us?
The Information Centre is open for public Monday to Sunday, from 9 a.m. to 4 p.m. Excursions can be arranged on request from 7 a.m.
Larger groups (over 10 people) must be reported in advance via telephone. The groups can order a guide to provide them with more varied experience from the excursion through his/her presentation.
The guided excursions of the Small Hydroelectric Plant are held regularly every Saturday and Sunday at 2 p.m. On public holidays, the excursions also start at 2 p.m. On other days the excursions must be ordered in advance.
NEW! Weekend excursions to the Hydroelectric Plant are extended to 45 min; before the excursion proper a new film Small Hydroelectric Plants on the Elbe (duration of 20 min.) is shown in the Information Centre.
Note to visitors
The Information Centre and the Small Hydroelectric Plant are closed due to technical reasons every first Monday in a month and  on the following days:  Easter Monday, Christmas Eve and Christmas (December 25 and 26), New Year's Eve, New Year's Day.
Souvenirs on offer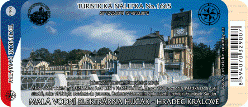 Renewables Information Center offers visitors a tourist sticker "Small Hydropower Hučák". Price of this sticker is 12, -.

We also sell tourist card, tourist diaries, stamps and stickers.
Tourist stamp "Small Hydropower Hučák and Information center for renewable sources" is available at the reception of the Information Centre.
Fotogalerie