Information Centres for the Small Vydra and Cenkova pila (Cenek´s Saw-mill) Hydroelectric Power Plants and Permanent Exhibition of "The Šumava's Power"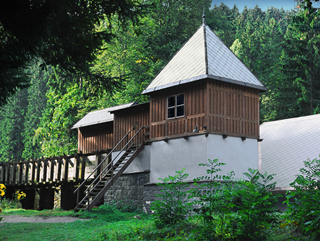 Free excursion! Visitors can watch some of the topic-related videotapes and see a national technical monument in the vicinity, the small Cenkova Pila Hydroelectric Power Plant built in 1912.
A great part of the exhibition is focused on Vchynicko-Tetov canal. Those who are interested can find information here about CEZ Group and hydroelectric power plants of its member companies.
When can you visit us?
In May and in October, only Wednesdays and Saturdays; from 1 June to 30 September, Tuesdays to Sundays. Excursions start at 9 a.m., 11 a.m., 1 p.m. and 3 p.m.
From November to April only excursions for larger groups are possible; they must be booked in advance.
Tel.: Alena Janoutová, 774 978 806 (only Mondays, Wednesdays and Thursdays at 7 a.m. to 8:30 a.m.)
Vydra and Čeňkova Pila are situated near the Cycle Route Nr. 331 and Nr. 2114.
Nearest public transport stops: stop Srní (bus) and Rejštejn, stop Čeňkova pila (bus)
GPS Hydroelectric Power Plant Vydra and Information Centre: 49°06'21.95"N, 13°29'33.95"E
GPS Hydroelectric Power Plant Cenkova pila: 49°06'35.38"N, 13°29'33.29"E
Parking - free parking at the kiosk about 150 m from the information center
Fotogalerie