Trading
Present
Similarly to most large European energy companies, Trading is CEZ Group´s only gateway to wholesale electricity, CO2 allowances and CER markets.  Through Trading, electricity is supplied from the Group´s production resources to the Group´s own end customers or to other market participants, or, in case electricity cannot be supplied from own production, it is purchased. Trading also actively pursues market opportunities in order to realize margins from electricity and CO2 trading.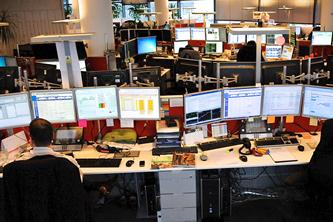 Today, CEZ Trading operates in markets in the Czech Republic, Slovakia, Germany, Austria, Poland, Hungary, Bulgaria, Serbia, Bosnia and Herzegovina, Albania, Kosovo and Croatia.
CEZ Trading participates in trading at PXE (Prague Energy Exchange), EEX (Germany), Nordpool, Towarowa Gielda Energi (Poland), ECX (European Climate Exchange) OPCOM (Romania), and further within other platforms, like OTE (a Czech electricity market operator organising a daily market).
Exploitation of business opportunities during supplies between single countries where CEZ Group operates is gaining importance. The used technologies, practices  and also the personal constitution of CEZ Trading are up to the standard common in comparable European companies. A unification of trading procedures in foreign countries and in the Czech Republic are under way now.
The central trading team uses a modern business room in Prague and support provided by local agencies. Some foreign local trade agencies are gradually expanding their business activities to cover sales to end customers as well.
History
Liberalisation of the electro-energy in the Czech Republic triggered off creation of real electricity trading. Before it was initiated, single producers supplied electrical energy locally to relevant regional energy companies or directly to CEZ, primarily under long-term and bilateral contracts. Within the context of electricity market opening, new infrastructure needed for trading started to be established from 2002 and after the transformation of CEZ Group´s companies, trading activities were centralized in CEZ Group´s head office in Prague.
Contacts
Contact for Commodity Trading
Contact for Short term origination
Contact for Foreign Assets
Contact for Structured products
Bank connection
For payment in EUR
Banking institution
Citibank, Evropská 178, Praha 6
Account number
200126823
IBAN
CZ6426000000002001268200
BIC
CITICZPX