Foreign Equity Shares
We are succesful within European energetics
CEZ Group's business activities abroad concern primarily electricity distribution, generation, trading, and sales, as well as natural gas trading and sales, commodity trading in wholesale markets, and active presence in energy services and renewables. Foreign countries where CEZ Group is doing business include most importantly Germany, France, Poland, Romania, Bulgaria, Slovakia, and Turkey. Companies in the Netherlands are ownership intermediaries and companies providing financing to CEZ Group.
Republic of Bulgaria
CEZ Bulgaria EAD was established in the middle of 2005 in order to represent ČEZ Group on the Bulgarian power market. The major activities of CEZ Bulgaria EAD are focused particularly on support of activities of ČEZ Group in Bulgaria. Another important role of CEZ Bulgaria EAD is coordination of activities of all ČEZ companies in Bulgaria.
Production
CEZ Group has an installed capacity of 5,0 MW in Bulgaria.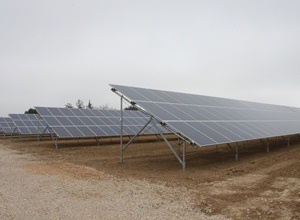 The photovoltaic plant Oreshets occupies an area of 10 ha. It was built in the place of an abandoned wood processing plant located in Oreshets industrial area. As a result of this eco-friendly electricity production 6900 tons of climate-damaging CO2 will be saved annually.
View profile of Oreshets photovoltaic power plant with and photogalery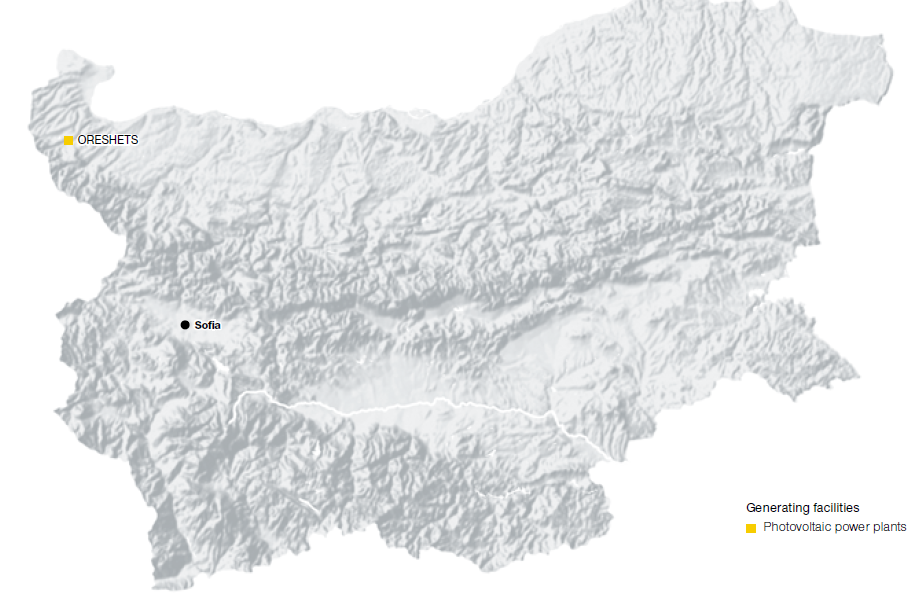 Electricity Distribution
The distribution company CEZ Razpredelenie Bulgaria AD operates in the western part of Bulgaria in an area of 40 000 km2 (almost 3 million inhabitants). These areas are Sofia-city, Sofia, Blagoevgrad, Kyustendil, Pernik, Pleven, Lovech, Vratsa, Montana, Vidin. In April 2015 was founded the 100% subsidiary CEZ Razpredelenie - CEZ ICT Bulgaria EAD, which provides information and communication services.
Electricity Sales
Sale of electricity to customers and trading on the wholesale market are attended to by CEZ Trade Bulgaria EAD. All the activities relating to purchase, sale and customer services performs CEZ Elektro Bulgaria AD. It is a trading company established because of the requirements arising from the change of the Power Act and from the European regulations relating to the accession of Bulgaria to the European Union (particularly Directive 2003/54/EC).
CEZ ESCO Bulgaria EOOD was established in Bulgaria. The company implements energy projects for end customers on the Bulgarian market.
Further information is available at www.cez.bg.
Romania
CEZ Romania S.A. is providing maintenance and management services to members of the ČEZ Group and also serves as a team support for possible acquisitions in Romania.
Production
In November 2012, CEZ connected the last of 240 turbines of the Fantanele and Cogealac wind farms to the grid - with the total generating capacity of 600 MW, which means the largest project of its kind in Europe. The Fantanele-Cogealac Wind Farm is situated in an area of 12 by 6 kilometres in the Romanian province of Dobruja, only 17 kilometres from the shore of the Black Sea. The project consists of the installation of GE 2.5 XL wind turbines, each having a rated capacity of 2.5 MW. These units are 100 metres in height and have an average rotor diameter of 99 metres. Once complete, the wind farm project will represent an almost 10% share of the Romanian renewable energy market (which includes large hydroelectric plants). View profile of Fantanele and Cogaelac wind farm and photogalery
Watch the video of theconstruction of the wind park Fantanele-Cogaelac! (filmed: November2012)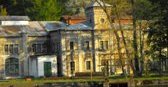 In 2011, CEZ Romania S.A. acquired 100% share in the Romanian company TMK Hydroenergy Power S.R.L.Assets of the newly acquired company are located near the town of Resita and consist of 4 dams – (Trei Ape, Gozna, Valiug, Secu) and 4 small hydro power plants – (Crainicel I, Crainicel II, Grebla and Breazova). The total installed capacity of the system is about 22 MW. View profile of Resita hydro power plant and photogalery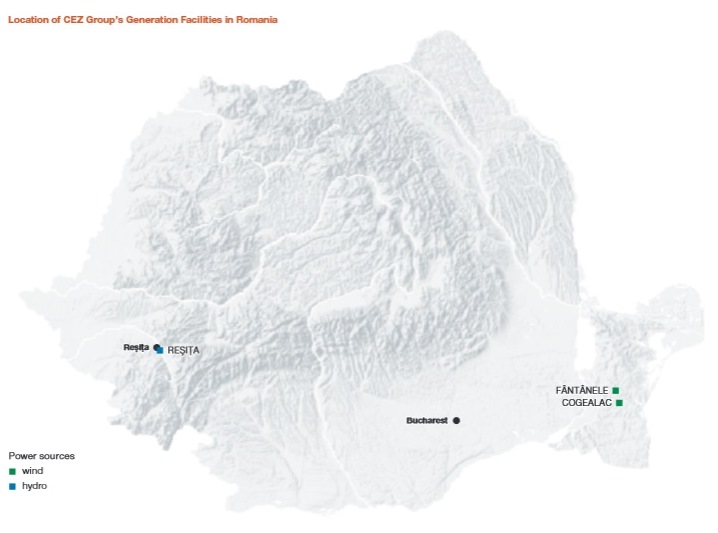 Electricity Distribution
The distribution company Distributie Energie Oltenia S.A. operates in the southwestern part of Romania (Arges, Dolj, Gorj, Olt, Mehedinti, Teleorman and Valcea), where live more than 3.5 million inhabitants. The company provides supplies for the nearly 1.4 million eligible customers.
Electricity Sales
Sale of electricity to customers and trading are attended to by CEZ Trade Romania S.R.L. This company is partly also involved in the sale of electricity to eligible customers (this area is primarily under the responsibility of the company CEZ Vanzare S.A.).
Further information is available at www.cez.ro.
Republic of Poland
Main objective of company CEZ Polska Sp. z o.o.,  to provide maintenance and management services to members of the ČEZ Group in Poland, and to act as a support for further acquisition activities. The company is based in Warsaw.
Production
CEZ Group companies owned generation facilities with a total installed capacity of 681 MW in the Republic of Poland: coal-fired power plants with 678.4 MW and hydro power plants with 2.5 MW.
The generating capacity of the Skawina bituminous coal-fired plant,  including a little hydro-power plant in its territory, is 490 MW (including small hydropower plants Skawinka in their area). ELCHO power plant (in the picture) produces combined electricity and heat in two modern units with the total generating capacity of 208 MW.
In mid-2013 was launched small hydropower plant Borek with installed capacity of 865 kW.
Additional information is available on the following websites:
Electricity Sales
CEZ Trade Polska sp. z o.o. based in Warsaw was established in 2007 for the purpose of trading electricity in Poland. It is a 100% subsidiary of CEZ, a. s. Currently, this company supplies electricity to end customers in the segments of large enterprises and SME.
Other companies in Poland where CEZ has a 100% stake: CEZ Towarowy Dom Maklerski sp. z o.o. (formerly CEZ Cieplo Polska Sp. z o.o.), which performs brokerage services with respect to transactions at the Polish Power Exchange (Towarowa Giełda Energii), and CEZ Produkty Energetyczne Polska Sp. z.o.o., which deals with waste management and energy by-products.
Sales - ESCO Services
In October 2017, CEZ Group acquired a 50% share in OEM Energy sp. z o.o. focusing on the modernization and installation of solar thermal and photovoltaic panels. A contract on the purchase of a 100% share in Metrolog, which has long been engaged in the provision of comprehensive services in decentralized generation of electricity and heat, was signed in December 2017.Furthermore, CEZ Group focuses on organic growth in Poland through CEZ ESCO Polska sp. z o.o., which acquired several projects in the field of energy savings in 2017.
Further information is available at www.cezpolska.pl
Republic of Slovakia
In December 2008, the co-operation of CEZ with the Hungarian enterprise MOL, became a joint venture, i.e. CM European Power International B.V., resulted in the foundation of CM European Power International s.r.o. based in Bratislava. In May 2013 it was decided to merge the two companies, with effect from 1. 6. 2013 CMEPI Company Ltd. ceased to exist in the legal senseand its legalsuccessor is CMEPS Ltd. Its main activity is the operation of the heating plant on the premises ofthe Bratislava refinery Slovnaft.
Production
Production of process steam and electricity provided by CM European Power Slovakia, ltd. Buyer is refinery Slovnaft (part of MOL). Total installed capacity of thermal power station Slovnaft is 114 MW.
Sales of Electricity and Natural Gas
CEZ Slovensko, s.r.o. supplies electricity and gas to all end customer's segments, i.e. to households, SME and large enterprises (big industrial companies) in Slovakia.
The official pages of CEZ Slovensko are available at www.cez.sk.
Republic of Turkey
On the basis of an agreementon strategic cooperation CEZ Group and AkkökGroup was created by a joint venture Akenerji Elektrik Üretim A.S., which operates several hydroelectric power plants and wind park Ayyildiz. An important project under the joint venture is also combined heat andpower (CHP) plant of Egemer in the east of Turkey.
Through Akcez Enerji AS,the second joint venture of CEZ Group and Akkök Group,CEZ's ownshare in the distribution company Sakarya Elektrik Dagitim, A.Ş.(SEDAS).
In November 2012, a new sales company Sakarya Elektrik Perakende Satış A.Ş. was established in Turkey, in which Akcez Enerji A.Ş. holds a share of 100%. Establishment of the company is a part of the unbundling process.
Production
Electricity is generated by Akenerji Elektrik Üretim A.S. and its subsidiaries. CEZ Group co-ownspower plants with a total installed capacity of 1,221.1 MW (overview see below) View profile of hydro power plants and photogalery
Combined Heat and Power Plant in Turkey
In October 2011 began construction of combined heatand power (CHP)  with an installed capacity of 904 MW. In August 2014, Together with its partner, Akkök of Turkey, the CEZ Group has accepted from their contractor a newly built CHP plant of Egemer in southeast Turkey and started its live operation. Being a highly efficient source of heat and power with 57% efficiency and a service life of minimum 30 years, the plant should generate up to 7,000 GWh of electricity every year.
Generation Facilities Co-Owned by CEZ Group in Turkey

| Power plant | Type | Installed capacity (MW) | Commissioning |
| --- | --- | --- | --- |
| Egemer | CHP | 904 | 2014 |
| Ayyıldız RES | wind | 5 x 3, 4 x 3,3 | 2009, 2016 |
| Bulam | hydro | 7,03 | 2010 |
| Burc Bendi | hydro | 27,33 | 2010 |
| Feke I | hydro | 2 x 14,5 | 2012 |
| Feke II | hydro | 69,35 | 2010 |
| Gökkaya | hydro | 2 x 14 | 2012 |
| Himmetli | hydro | 2 x 13,5 | 2012 |
| Uluabat | hydro | 97,02 | 2010 |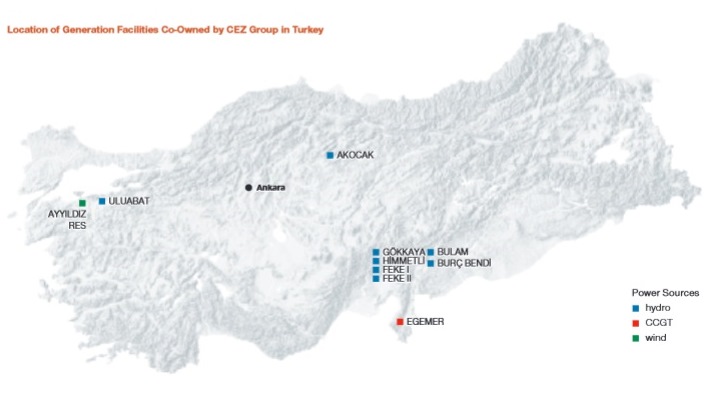 Further information about this company is available at www.akenerji.com.tr/Eng
Federal Republic of Germany
CEZ Deutschland GmbH
The CEZ Group has been operating in Germany since 2001.  The main objective of CEZ Deutschland GmbH was electricity trading in the territory of Germany.  Due to the market liberalization and streamlining of licensing conditions in Germany is traded through CEZ DeutschlandGmbH only a part of electricity trades.The remaining part is traded directly by CEZ, a. s. Deutschland GmbH operates the German market as well as support for potential M & A activity within the Federal Republic of Germany.
Production
Strengthening of the position of CEZ Group in the field of renewable energy sources in Central and Western Europe is one of the main objectives of the updated strategy of CEZ Group.
In this context, CEZ announced in April 2016 its strategic intention to invest heavily in renewable energy sources, in the development of decentralized technologies and innovative solutions in Western markets (especially in renewable sources in Germany).
After examining a number of acquisition opportunities, CEZ Group announced in early December its first acquisition of an onshore wind farm operating on the German market.
Currently CEZ Group companies in Germany owned onshore wind farms with the installed capacity of more than 133 MW.
In December 2018, the ČEZ Group acquired wind turbine projects in Germany with a total potential installed capacity of 190 MW. This came about in cooperation with well-known local developers. These projects will compete in the system of German auctions in 2020–2022.
Acquisitions of technology companies
CEZ Nová energetika, operating under the brand name Inven Capital, which it subsequently adopted as its name, was founded for the purpose of investing in innovative developing companies active in the new energy industry in Europe. In September 2016, Inven Capital, an investment fund, obtained from the Czech National Bank the authorization to operate a self-administered qualified investor fund, and became a regulated entity. It focuses primarily on investment opportunities in later-stage growth with a business model proven by sales and with growth potential. Its objective is to generate long-term value through active collaboration with portfolio companies and their founders. CEZ has invested through INVEN CAPITAL into Sunfire, which develops and industrializes the most advanced energy technologies contributing to CO2 emission reduction and the development of decentralized energy sources, as well as into sonnen, the global leader in intelligent battery systems for energy storage for households. In addition to these smart customer-oriented power solutions, ČEZ is exploring the residential heating and cooling sector through its investment in tado°. In May 2017, INVEN CAPITAL has become a shareholder in the Dresden-based company Cloud&Heat Technologies, which provides a unique solution that uses server heat for hot water and heating purposes in commercial buildings.
France
In June 2017, by acquiring 9 wind farms, CEZ Group has entered the French renewable energy market. The projects were acquired from ABO Wind, a reputed German developer of renewable sources. Located in six regions across France, the onshore wind farms are in an advanced stage of development. During the next 5 years, up to 100 MW of installed capacity can be built. All wind farms have operational support in the form of a feed-in tariff guaranteed for 15 years.
In January 2019, ČEZ Group has acquired onshore wind power projects in France with a potential overall installed capacity of up to 116 MW. At present, ČEZ is preparing the construction of wind power plants in France with a total installed power of over 215 MW.
Further foreign capital participations of the CEZ Group
Republic of Albania
In May 2009, CEZ, a. s. acquired a 76% share in Operatori i Sistemit te Shperndarjes Sh.A., an Albanian distribution company based in Tirana.  The balance of 24% wass owned by the state of Albania.  The company was renamed CEZ Shpërndarje Sh.A.in 2010.Currently there CEZ don´t exercises its shareholder rights, since 21.1.2013 trustee has de facto control over the company.
On October 16, 2014 came into effect the settlement agreement concluded between CEZ Group and Albania. This agreement straightens all claims between CEZ Groupon and the Republic of Albania. According to the Agreement, CEZ is going to receive a total of EUR 100 million, an amount similar to its initial investment in acquiring the Albanian power distribution company.
Currently CEZ Group owns in Albania companies Shared Services Albania Sh.A (established in 2009 to provide shared and support services).
Hungary
The main objectives of the Hungarian company CEZ Hungary Ltd. are sale of electricity to end customers in the segment of large enterprises and to support CEZ, a. s. in electricity trading in Hungary.
In March 2009, CEZ acquired a share in Dunai Gőzfejlesztő Kft. This acquisition was also a result of the co-operation of CEZ and MOL and took place through their joint venture CM European Power International B.V. In April 2009, the company was renamed MOL – CEZ European Power Hungary Ltd. In 2012 was suspended work on the construction project CCGT power plant of 850 MW in location Százhalombatta (the most important refinery company MOL Nyrt.). CEZ Group's share in the company was sold to October, 31 2014.
The official pages of CEZ Hungary are available at www.cez.hu
Kingdom of the Netherlands
CEZ, as in the Netherlands has not own trading activity in the energy sector, the following companies are holding and financing companies.
CEZ, a. s. acquired three other companies – CEZ Silesia B.V., CEZ Chorzow B.V. and CEZ PolandDistribution B.V. – in connection with acquiring stakes in Poland's power utilities Elektrocieplownia Chorzow ELCHO Sp. z o.o. and Elektrownia Skawina S.A. CEZ took over the current ownership model of Polish power plants through these companies. CEZ Poland Distribution B.V.  also hold minority shares in company Eco-Wind Construction S.A. in Poland.
The CEZ-MOL joint venture, headquartered in the Kingdom of the Netherlands, was founded in July 2008 under the name CM European Power International B.V., with CEZ owning a 50% share.
In May 2009, CEZ International Finance B.V.was registered in the Kingdom of the Netherlands in order to fund selected projects of CEZ, especially MIBRAG.
In January 2011, CEZ Bulgarian Investments B.V. was established in the Netherlands. This is a 100% subsidiary of CEZ, a.s., established with the aim of supporting the development of renewable sources of the CEZ Group in Bulgaria.