The Dlouhe Strane Pumped-Storage Hydro Power Station
The Dlouhé stráně Hydroelectric Power Station is situated in Moravia, near Loučná nad Desnou in the district of Šumperk. It prides itself with three superlatives: it has the largest reversing water turbine in Europe, 325 MW; it has the largest head of all power stations in the Czech Republic, 510.7 m; and it has the largest installed capacity in the Czech Republic, 2 x 325 MW.
Enjoy a virtual tour of Dlouhé stráně pumped-storage hydro power statiton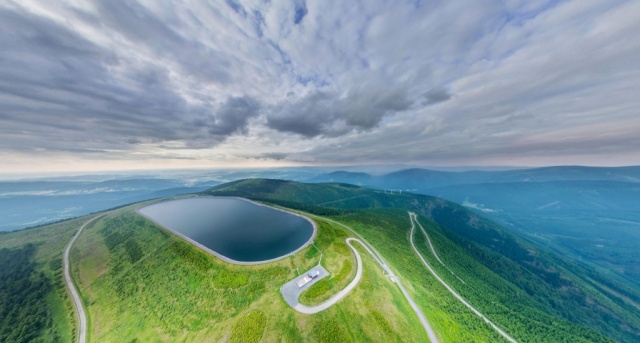 The power station fulfils static, dynamic and compensatory functions within the power system. The static function lies in converting the surplus energy in the system into peak-load energy - at periods of surplus electricity in the system, namely at night, water is pumped from the lower to the elevated storage reservoir; and during the on-peak periods, when there is a shortage of electricity, the power station's turbines generate electricity. The dynamic function of the hydroelectric power station means functioning as the system's output reserve, generating the regulating output and energy, and participating in the frequency regulation of the system. The compensatory operation facilitates the voltage regulation within the power system.
Construction on the power station began in May 1978. But in the early 1980's, the central bodies decided to hold up the project. In 1985, the design was modernized, and after 1989, it was decided to complete the project. The power station was designed as an underground hydroelectric power station. Both turbine sets are located under the ground, in a 87.5 m x 25.5 m x 50 m cavern. Next to the turbine chamber, there is located a 115 m x 16 m x 21.7 m transformer chamber. It includes two unit three-phase transformers, 22 kV switching rooms and other equipment.
The elevated storage reservoir is connected with the underground power station by two penstocks, 1,547 m and 1,499 m long, each feeding one turbine set. Two discharge tunnels, 5.2 m in diameter, connect the station with the lower reservoir. The tunnels are 354 m and 390 m long. The lower reservoir is on the Divoká Desná River. Its total capacity is 3.4 million m3 of water; it has a 56 m high dam, and its water level fluctuates by 22.2 m. The elevated reservoir is situated on top of the Dlouhé stráně mountain, 1,350 m above sea level. Its total capacity is 2.72 million m3.
The station is equipped with two reversing turbine sets, each rated at 325 MW. The reversing turbine's output is 312 MW in the storage pumping operation, and up to 325 MW in the turbine operation.
The administration building and the control room are situated on the surface, along with the outgoing lines with a 400 kV encased switching station, workshops and warehouses, garages, a sewage treatment station and a water treatment station.
Production unit - Dlouhe strane
Installed capacity
2 x 325 MW
Date of commissioning
1996
Type of turbine
Francis