Dear Readers,
The report you are opening sums up the progress, results of, and approach to responsible business and sustainable development at CEZ Group in 2016.
We are the safe operator of a wide range of energy facilities, including nuclear facilities; we respond to technological advancement and social development. However, the goals of our global operations go far beyond the simple pursuit of a healthy future for the company. Responsible business practices and sustainable development are rooted deeply in the very substance of our company, as expressed by our mission—to provide safe, reliable, and positive energy to customers and society as a whole.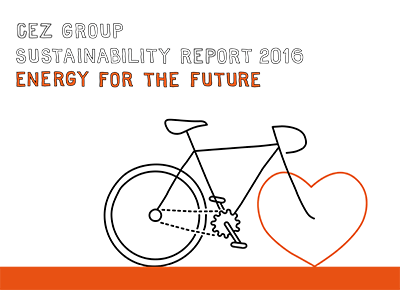 Responsible business practices and sustainability hold a firm position in our corporate vision—we strive to improve the quality of life in the country, across the whole society, with our operations. We endeavor to support public benefit goals as well as to work closely with municipalities and regions; we embrace the principles of sustainable development.
Today's shift in the perception of social responsibility and from philanthropy to long-term business sustainability was one of the reasons why we decided to formalize our approach and all related activities in order to ensure an adequate and necessary link between the aspects of sustainable development and our strategic business plans. We want the application of responsible conduct and behavior to be reflected in how we do business. We make sure our business processes are sustainable in order to contribute, as a company, to the overall prosperity and continuous development of the localities and regions we operate in. Every day, the management of ČEZ, a. s. takes responsibility for making our operations sustainable not only for us but also for society in the pan-European social context, inspiring other managers not only in CEZ Group.
In 2016, we therefore adopted a sustainable development strategy for CEZ Group, based on five pillars that we intend to build on a long-term basis using a number of targeted programs. The sustainable development strategy is closely tied to and elaborates CEZ Group's business strategy. We will evaluate the sustainable development strategy every year, focusing on high-quality methods for monitoring and quantifying impacts on our business activities in all fields.
A company is characterized by its people; literally every employee is a representative of corporate culture. Therefore, we continually strive to make all of our employees as informed as possible and to create the conditions and opportunities for their individual engagement. There are many colleagues that are interested in what is happening around them, that get engaged, and help, and they set an example for us all. You can learn more about our relations with employees and other individual and institutional stakeholders in the text of the report.
I believe that you will find our report inspirational and full of interesting information.
Michaela Chaloupková
Member of the Board of Directors
Chief Administrative Officer
CEZ Group Sustainability Leader
Download