The Largest Wind Farm in Europe Goes Into Trial Operation
The last one of 240 wind turbines in the Fantanele-Cogealac wind park in Romania has been connected to the grid today. The total installed capacity is now 600 MW, and the largest continental wind park in Europe can thus supply power to over one million Romanian households every year.
The first wind turbine of the Fantanele-Coegalac wind park was launched on June 1, 2010 at 5:25 p.m. sharp. The last one has been connected to the grid this morning, less than two and a half years after the first one. "In the final phase of completing the wind park, we worked very hard and connected up to four turbines a week. This wind park is one of our best investments and also one of the most significant projects of its kind on a global scale," says Tomáš Pleskač, Distribution and Foreign Assets Division Director. Since the first wind turbine was launched, the wind park has generated already 1.646 TWh of electricity.
The Fantanele-Cogealac wind park is situated on a quite unique land lot in one of the two windiest areas in Europe, in the Romanian province of Dobrudja, 17 km from the Black Sea. the 2.5MW wind turbines have been installed on an area of 12 by 6 kilometers. Each of the wind turbines is 100 meters high, with the rotor diameter of 99 meters.
We have entered the trial operation phase today, during which we are going to thoroughly check all wind turbine operation parameters and performance. "We are using a state-of-the-art wind turbine technology that ensures a high efficiency and reliability in a wide range of weather conditions. This significantly increases the wind park production capacity," says Stephan Ritter, GE's General Manager for Renewable Sources, which is the principal turbine supplier.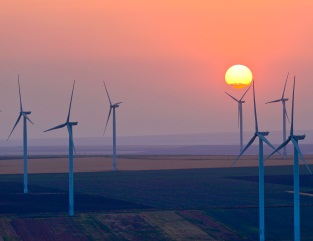 ČEZ is thus a major pioneer in the wind energy sector in Romania. "When we entered this project, Romania had mere 14MW of installed capacity in wind turbines, but now just the Fantanele-Coegalac wind park has full 600 MW," points out Ondřej Šafář, Fantanele-Cogealac Project Manager. ČEZ has thus significantly contributed to a higher green energy generation in Romania; last year, ČEZ enjoyed a 40% share of the local market with green certificates due to the new wind park.
The ČEZ Group is going to use the experience from building its Fantanele-Cogealac wind park, including the best experts from Romania, for its planned Eco-Wind project in Poland. In line with its new strategy, announced in December 2011, ČEZ has acquired a majority stake in a leading Polish wind park developer, Eco - Wind Construction Poland, which has a portfolio of fifteen projects in various phases of implementation, with their total planned capacity being some 700 MW. Apart from these projects, ČEZ has also been looking into other opportunities for investing in renewable sources of power abroad.
Barbora Půlpánová, ČEZ' Spokesperson