The Melnik Power Station
The Melnik Power Station
New: Virtual tour!
Power Plant Melnik, out of all the CEZ production facilities, is the nearest to the capital of Prague - it is situated, approximately, about 13 km below the Elbe and Vltava River confluent. Formerly, it consisted of three technology units (EME I, EME II, EME III), constructed in stages between the end of 60's and the end of 70's, as a system of condensing power plants burning brown coal transported by trains from both North Bohemia and West Bohemia mines.
Stroll through Mělník Power Plant on your PC!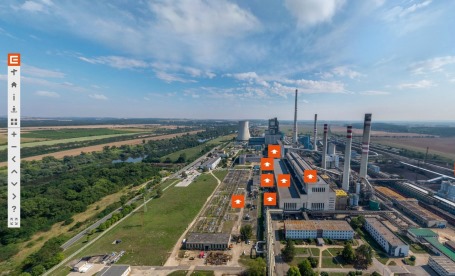 Power Plant Melnik I (4 x 60 MW)
Power Plant Melnik III was introduced into permanent operation in 1960.
Power Plant Melnik II (2 x 110 MW)
Initial four units of Power Plant Melník II were introduced into permanent operation in November 1971. The period of 1971 - 1976 was characterized by gradual optimization of the main technology equipment. In the following years, equipment technology modernization took place. With all the units, electrostatic precipitator reconstruction was performed. At present, electrostatic precipitator efficiency is maintained above the level of 99 %.
Within the framework of CEZ Resources Attenuation Program Implementation, a decision was adopted to only operate two units, after the new environmental protection legislation was effected (since 1 January 1999). Those, then, were subjected to an environmental-modernization program of CEZ Company.
In the period of 1994-1996, the two units continuing with projected operation were totally reconstructed. New turbines were installed, with an option of future heat off-take, both as steam and hot water. In addition, a modern Westinghouse WPDF II I & C system was installed. Boilers were reconstructed radically (diaphragm walls, combustion mode modification - primary measure for NOx reduction, auxiliary area arrangements). Desulphurization equipment using wet limestone washing method was introduced into operation in the second half of 1998. The other two units, not reconstructed, were finally decommissioned from operation as of 31 December 1998.
Since 2000, heat power has been supplied from Power Plant Melnik II into the regional heat distribution center, for the town of Melnik and nearby Horni Pocaply and Dolni Berkovice villages.
The power plant gypsum produced within the desulphurization process is then fully processed, as a power generation by-product, in nearby Rigips plant producing gypsum plasterboards. Equally, combustion process residuals, such as fly-ash and slag, are processed into certified building materials used in construction industry and recultivation. Following implementation of the last major capital expenditure project of slag dehydration in 2005, the electricity and heat production, due to the certification of fly-ash, slag, and power plant gypsum as energy production by-products, shall be approaching conditions prevailing in wastefree technologies.
In 2002, the power plant, being a part of CEZ.UKE, was awarded a certificate of "Environmental Management System? and, concurrently, complied with ISO 14001 standard requirements.
Production unit - Melnik I
Installed power output
4 x 60 MW
Operation commenced in the year
1960
Production unit - Melnik II
Installed power output
2 x 110 MW
Operation commenced in the year
1971
Desulphurized since the year
1998 (shutdown on 1 January 1999 - 2 x 110 MW)
Heat supplies
In addition to production of electric energy, The Mělník Power Station provides also heat supplies. Both commodities are produced in a common, the so-called combined cycle, and this results in a considerably higher utilisation of fuel and thus power savings with a positive impact to environment.
Heat power is supplied through heat pipeline to the town of Mělník and the municipality of Horní Počaply, and to other consumers in the area and in the close vicinity of the power station. The total annual supply is 500 TJ, approximately, with maximum output of 80 MW. However, power station capacities are considerably higher; the turbines can deliver in total the heat output of up to 340 MW.
Apart from the heat feeder, the power station operates also the primary and secondary distribution networks in Mělník and Horní Počaply, and provides complex supplies of heat to the end-consumer. In the heat control room building in Mělník, there was established the customer support centre where information on the possible service connection, delivery conditions, prices, etc. can be obtained.
The current prices of heat supplied by the power station are reasonable and competitive in comparison with the possible competitive ways of heat supply, in the near future they should be more stable than prices of heat from resources burning the imported natural gas.