Střekov
The Střekov power plant is part of the Střekov lock/reservoir built in 1932-1935. The entire waterworks is a Czech technical monument.
The power plant itself commenced its operation in 1936. The power plant's total installed capacity is 19.5 MW and it features three vertical Kaplan turbines. The electricity it produces in a year would cover the consumption of more than 14,170 households, i.e. such towns as Jablonec nad Nisou or Česká Lípa.
Enjoy a virtual tour of Střekov Hydro Power Station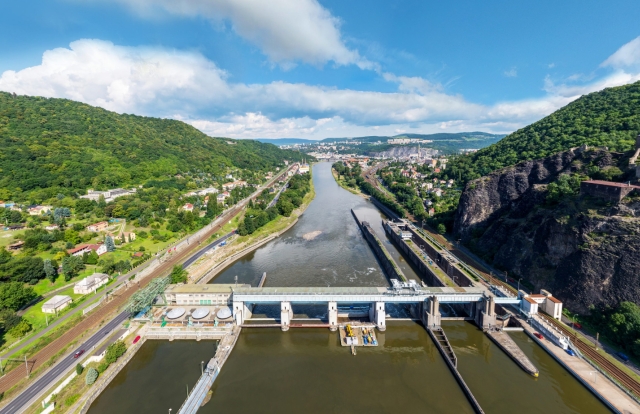 The power plant is used permanently rather than during peak hours only. Střekov is the last but one artificial dam on the Elbe before it reaches the North Sea. The Střekov dam creates a reservoir 19.5 km long and impounds 16 million cubic metres of water.
Today, the main purpose of the Střekov waterworks in Ústí nad Labem is electricity generation as well as ensuring sufficient water depth and conditions for navigation. In addition, the waterworks allows safe fish pass.
On 26 September 1955, Elektrotrust Most, n. p. was appointed the operating administrator of the power plant. The Střekov hydro power plant thus became a plant of the national enterprise Elektrárna Trmice. After Severočeské energetické závody in Děčín came into existence in 1963, the power plant was transferred to that enterprise, under direct control of the distribution plant in Ústí nad Labem, becoming an inherent part of its Operations department. After the state-owned enterprise Severočeské energetické závody were transformed into the joint-stock company Severočeská energetika in 1994, the power plant remained included in the organizational structure of the Ústí nad Labem plant. In 2007 the hydro power plant was transferred under a new owner, ČEZ Obnovitelné zdroje, s.r.o. Hradec Králové.
In 2006 CEZ Group finished a power plant upgrade, during which all turbines were overhauled and their operation was automated with a new control system. The reconstruction reduced the negative environmental impact of the power plant's turbines because some lubricated equipment was replaced with lubrication-free equipment In addition, a wastewater and sewage water treatment plant was put into operation. The total investment in the hydro plant upgrade was CZK 167 million.
The emergency gate of one of the three Kaplan turbines was overhauled in the summer of 2008. The emergency gate slab, over seven metres high and weighing 65 tonnes, which closes the turbine intake and serves as a sluice gate, was removed from its shaft.