Himmetli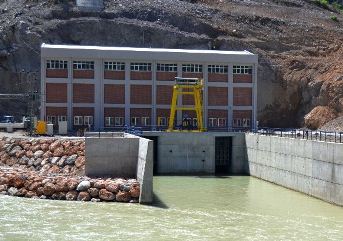 The Himmetli Hydro Electric Power Plant is located in a mountainous landscape of south-eastern Turkey, approx. 150 km from the City of Adana. The plant started commercial operation in May 2012.
The power plant machine room is equipped with two Francis turbines with a combined output 27 MW. The weir is 21 m high above foundation with 33 m crest length. The weir is concrete ogee profile, controlled with 4 radial gates with dimensions of 6m x 9m. Power intake shaft is at the left bank, at the entrance of the power tunnel. The diameter of the power tunnel is 4.3 m. After surge tank, inner diameter of power tunnel is reduced to 3.6 m. The penstock splits into two branches with 2.5 m diameter and enters the powerhouse. The powerhouse is a concrete structure, which is 36.5 m long and 26 m wide.
The construction project included installation of a 154 kV transmission line 15 km long to supply power.