Tušimice Information Centre

Use novelty in our offer and experience the site visits upgraded Coal Power Plant Tusimice + visitor and education center.
LANGUAGES
Excursions are provided in Czech language. If you are interested in another language, please take your own interpreter.
Excursion are free. Please order in advance! Contact: Marie Tučková, tel: 720 733 105, marie.tuckova@cez.cz
GPS Coordinates: Loc: 50 ° 22'51.07 "N, 13 ° 20'09.41E

Nearest public transport stop: II.ELNA (bus)
Parking: free parking in front of the main gatehouse
Download the cycling routes map around Kadaň!
In the period from 2007 to 2012, Tušimice Power Plant II underwent a grandiose complex restoration that will ensure its future operation in line with the current European standards roughly till 2035 when the adjacent Libouš mine is expected to be exhausted. The power plant's efficiency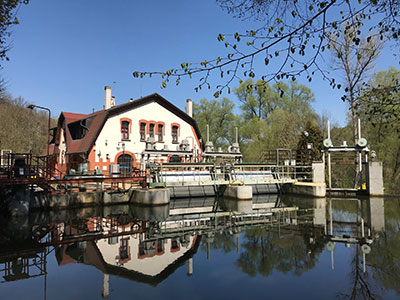 increased by 6%, which saves 14% of fuel per MWh produced.
We recommend combine this excursion with a visit to Small Hydro Power Plant Želina on the river Ohre! (outside the period from November to March) Free excursion!
New: Virtual tour!