Information Centre of the Dlouhé stráně Hydro Power Station

Basic Information
New: Virtual tour! The pumped-storage Dlouhé stráně Hydro Power Station is situated in the Protected Landscape Area of Jeseníky. Many of its facilities are located under ground, and those above ground have been incorporated in the nature with a great care for it. The power station was commissioned in 1996.
The elevated reservoir is located at 1350 m above see level and water from this reservoir is brought to the turbines by two penstock shafts of diameter 3.6 m and length 1.5 km. Two reversing Francis turbines, each with a capacity of 325 MW (the total capacity of the power station is 650 MW), are positioned vertically on a common shaft with the generator. The pumped-storage Dlouhé Stráně power station is the largest power generating waterworks in the Czech Republic and the capacity of one generating set is the largest of it kind in Europe. The Information Centre has been open to public since 1997.
We hide nothing, come and see yourself!
You will find here information about the surrounding nature (Protected Landscape Area of Jeseníky), about the CEZ power company, about its individual power stations
In addition, information about hydro power stations in the Czech Republic, but also about pumped-storage power stations in other countries, visual information is provided by illuminated kinetic panels (cross-sections of the underground power station, diagram of the whole area, etc.
At the end of the tour you will see a 20 minute film about the construction of the Dlouhé stráně power station (in an English or a German version)
You will be offered leaflets with additional information as souvenirs from your visit to the Information Centre and the Dlouhé stráně power station
The tour itself takes 3 hours and includes a visit to the underground facility and both the reservoirs, from the elevated reservoir one can see a wind power plant farm
Cycling Routes: from the upper station to the upper reservoir(4 km), from the upper reservoir downhill along the asphalt road to Kouty nad Desnou (16 km) or to Loučná nad Desnou (17km).

Excursions can be arranged at:
Languages
We are able to provide excursions in other than Czech language (English, German). Please order your excursions in advance.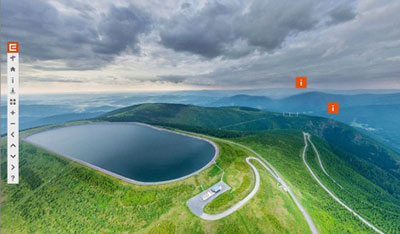 ENJOY A VIRTUAL TOUR OF DLOUHÉ STRÁNĚ PUMPED-STORAGE HYDRO POWER STATION!
Make sure to visit us!
Excursions are organised all year round. Cars are not allowed in without a prior arrangement. This is a private estate – protected area.