Engineering and technology
The Dukovany Nuclear Power Plant is the first nuclear power plant operated in the Czech Republic, and belongs to the largest, highly reliable and economically profitable power resources of ČEZ, a. s. The annual production of electric energy is approximately 13 TWhr, which represents about 20% of the total consumption of electricity in the Czech Republic. In comparison with other important producers of electricity, the Dukovany Nuclear Power Plant produces electricity with the lowest specific costs.
Four pressurised-water reactors (PWR) are installed in the Dukovany Nuclear Power Plant. The design-mark of these reactors is VVER 440/213. The abbreviation VVER (in Czech) means Water-cooled, Water-moderated Energy Reactor. Each of these reactors has the heat capacity of 1,375 MW and electric capacity of 510 MW.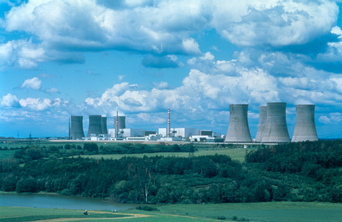 The layout of the power plant includes two main production units. Each of them contains two reactors and all directly linked equipment, including the machine hall with turbines and generators.
Aside from the four reactor units, there are also another two nuclear facilities located in the Dukovany Nuclear Power Plant area:
Spent nuclear fuel storage facility where spent fuel is safely stored in the transportable CASTOR 440/84 storage containers.
Low and medium radioactive waste repository under state ownership, 7% of the area is occupied.
The first reactor unit of the Dukovany Nuclear Power Plant was commissioned in 1985, the second and third units in 1986, and the fourth unit in 1987.
The following organisations participated in the design, production of the equipment and construction of the power plant:
Project base documents: LOTEP Company (former Soviet Union)
Execution project: Energoprojekt Praha
General contractor of the construction:Průmyslové stavby Brno
General contractor of the technology: Škoda Praha
Design, production and delivery of decisive equipment:
Reactors:
Škoda Plzeň
Steam generators:
Vítkovice
Turbo-generators:
Škoda Plzeň