Buštěhrad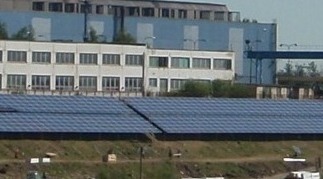 The CEZ Group commissioned a modern photovoltaic power plant in Buštěhrad in second half of 2010. The facility is situated in former industrial area.
Buštěhrad is situated near Kladno in the Central Bohemian Region. This area is, considering natural conditions, one of the most suitable locations for a facility producing electric power from solar radiation. Average annual total global radiation here reaches 4.1 thousand MJ/m2. In addition, use of these premises seems optimal also for it is a former industrial area, for which it would be very difficult to find alternative utilisation.
The power plant of the installed output 2.396 MW should produce the annual amount of electric power covering the demand of approximately 640 households in central Bohemia.
The construction itself was carried out in the second half of 2009. Carriers of polycrystalline panels are fixed to bearing piles fixed in the ground.