CEZ's Consolidated Quarterly Report on Operational, Economic and Financial Results for 2000, in accordance with IAS
Main Features
Demand for electricity (52.3 TWh) increased by 1.4%
ČEZ´s share in the electricity wholesale market decreased from 72.9% to 64.9%, largely as a result of lower sales of ČEZ´s generated electricity and in part due to that more than one third is the result of changes in methodology and the termination of a contract in from January 2000 for electricity purchased from Elektrárny Opatovice for resale
The highest ever electricity production in coal power plants and in the NPP Dukovany
Net income CZK 7.2 bn, the increase of CZK 2.9 bn (by 68.7%), EBT doubled
Maximum load reached 10,128 MW and is 2% (202 MW) higher than in 1999
The first connection of the turbo-generator in NPP Temelín to the grid in December 2000
Prague, 6th April 2000
| | | | | |
| --- | --- | --- | --- | --- |
| Income Statement in Accordance with International Accounting Standards (IAS) | | 31 Dec 2000 | 31 Dec 1999 | Index 00/99 |
| Operating revenues | CZK m | 52,692 | 53,542 | 98.4% |
| Operating expenses | CZK m | 39,837 | 43,416 | 91.8% |
| Fuel | CZK m | 12,800 | 12,957 | 98.8% |
| Purchased power | CZK m | 5,260 | 7,444 | 70.7% |
| Depreciation and amortization | CZK m | 9,349 | 8,885 | 105.2% |
| Operating income | CZK m | 12,855 | 10,126 | 127.0% |
| Other expenses (income) | CZK m | 2,254 | 4,917 | 45.8% |
| Income before taxation | CZK m | 10,601 | 5,209 | 203.5% |
| Income taxes | CZK m | 3,364 | 919 | 366.1% |
| Net income | CZK m | 7,237 | 4,290 | 168.7% |
| Earnings per share (EPS) | CZK | 12.2 | 7.2 | 169.4% |
| Price earning ratio (P/E) | 1 | 8.3 | 12.2 | 68.3% |
| Return on equity (ROE) net | % | 5.8 | 3.6 | 161.1% |
| Return on total assets (ROA) net | % | 3.3 | 2.1 | 157.1% |
| Assets turnover | 1 | 0.24 | 0.26 | 92.3% |
| Total indebtedness (provisions excluded) | % | 32.1 | 33.1 | 97.0% |
| Long-term indebtedness | % | 22.5 | 24.7 | 91.1% |
Revenues, Expenses, Income
Income Statement, Balance Sheet and Cash Flow are converted to International Accounting Standards (IAS) from Czech Accounting Principles and may differ significantly from the same data prepared according to Czech Accounting Principles.
Net income for 2000 amounted to CZK 7.2 bn, an increase of CZK 2.9 bn (68.7%) in comparison with the previous year. This improvement partially resulted from the fluctuating exchange rate of the CZK, changes in the level and structure of the foreign currency portion of the debt, as well as from the 1999 terminated retrofit of Tušimice I (CZK 2 bn).
The total revenues of CEZ amounted to CZK 52.7 bn and were CZK 0.9 bn (1.6%) lower than in the previous year.
Operating expenses amounted to CZK 39.8 bn, and were CZK 3.6 bn (8.2%) lower than in 1999.
Other expenses amounted to CZK 2.3 bn, i. e. a decrease of CZK 2.7 bn. This resulted, as mentioned, mainly from exchange rate changes, as well as from changes in the foreign currency portion of the debt.
Income tax amounted to CZK 3.4 bn, an increase of CZK 2.4 bn (266.1%) in comparison with the previous year.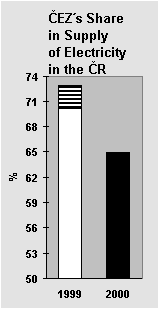 Earnings per share increased from 7.2 CZK to 12.2 CZK due to a higher profit.
The price earning ratio decreased from 12.2 to 8.3 due to the significant increase in the profit in comparison with the slight increase in share price.
The net return on equity rose from 3.6% to 5.8% as a result of the larger increase in the profit in comparison with that of average capitalization.
The net return on total assets rose from 2.1% to 3.3% due to the larger increase in the profit in comparison with that of average total assets.
Total indebtedness (provisions excluded) decreased and amounted to 32.1%, long-term indebtedness also decreased and amounted to 22.5%.
The number of employees decreased from 9,266 at the beginning of the year to 8,795 as of 31 December 2000 (a drop of 471 employees).
Sale of Electricity
In comparison with 1999, electricity sales of CEZ as a whole decreased by 1.6% and amounted to CZK 49.7 bn.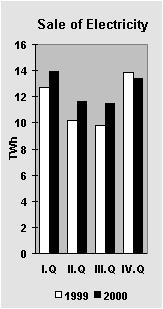 Demand for electricity (52,292 GWh) increased by 2.8% (1,437 GWh), of that 700 GWh is the result of methodology changes i. e. the real increase is only 1.4%. High voltage consumption including consumption of autoproducers and other consumption increased by 6.7% (2,016 GWh), but the real increase is - for the above mentioned reasons - only 4.3%. In contrast, low voltage consumption as a whole decreased by 2.5% (545 GWh), of this the commercial sector by 4.3% (319 GWh) and households by 1.6% (226 GWh) - due to warmer weather in 2000 and the increase of prices by 15% since January.
CEZ´s share in meeting the demand for electricity in the Czech Republic decreased from 72.9% to 64.9%, largely as a result of lower sales of CEZ´s generated electricity and in part (one third) from that more than one third is the result of changes in methodology and the termination of a contract in from January 2000 for electricity purchased from Elektrárny Opatovice for resale.
The total sales of CEZ in the Czech Republic decreased by 3,480 GWh (8.5%). In contrast, CEZ increased electricity exports by 6,787 GWh (120.3%).
Investment Program
As a whole, capital investment in 2000 reached CZK 21.3 bn, a decrease of CZK 0.9 bn (4%) in comparison with 1999.
The total amount spent on the NPP Temelín in 2000 was CZK 9.7 bn, the budget for it was CZK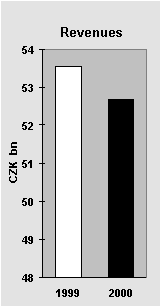 10 bn. In July the Nuclear Safety Authority granted permission for fuel loading into the 1st unit. In October after the completion of the specified tests for the particular operating modes and the solving of minor modifications the physical start-up of the first unit was initiated. Until the end of the year tests were continued at the power levels of 5, 12 and 30%. The turbo-generator was connected to the grid for the first time in December 2000.
The updating program at NPP Dukovany is continuing. In September a contract was signed with ŠKODA JS for the complete renovation of the instrumentation and control system.
Financing
In 2000 CEZ fulfilled all its financial commitments.
Net cash provided by operating activities increased to CZK 21.5 bn (by CZK 4.6 bn) mainly due to the higher profits. As mentioned, the total cash used in investment activities reached CZK 21.3 bn.
For the first time in CEZ´s history, operating activities brought in a higher amount of cash than was spent on investment. CEZ also reduced the cash during the year. These facts allowed a sum of CZK 1.3 bn to be used in financing activities for the reduction of the debt.
In April CEZ established Commercial Paper Programme with eight banks for a total of CZK 9 bn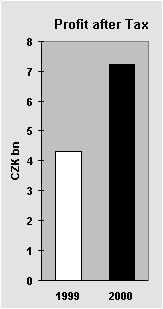 (7.5 bn committed).
In April CEZ signed a five-year syndicated guarantee EUR 85 m (CZK 3.1 bn) in favour of the European Investment Bank (EIB), which is a condition for borrowing the second tranche of the loan from the EIB.
CEZ used the call option and repaid the 3rd domestic bond issues (CZK 4 bn) early on 6 June 2000.
Other information
In December 2000 the new energy law (No 458/2000 Sb.) that has been in force since January 2001 was issued.
The Energy Regulation Office was established in January 2001 and determined the new maximum electricity prices between CEZ, CEPS and regional electric utilities. The auxiliary services charge, which is collected by CEPS from regional distributors, is now paid for every MWh of electricity delivered from the distribution grid to final customers. This provision removed an existing disadvantage for CEZ. The calculating base was increased from 1,182 CZK/MWh to 1,232 CZK/MWh (by 4.2%) in relation to the increase of prices for households.
The Ministry of Finance´s decree No 01/2000 determined new prices for all groups of final customers and prices for households were raised by 14%.
Current credit rating for CEZ from Moody´s - "Baa1" with a stable outlook,
from Standard & Poor´s - "BBB+" with a positive outlook.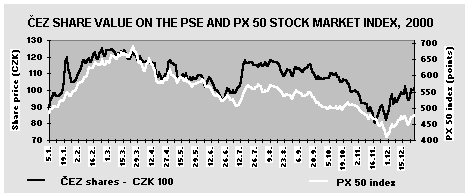 Income Statement in Accordance with International Accounting Standards (IAS) (CZK m)
31 Dec 2000
31 Dec 1999
Operating revenues
52,692
53,542
Sales of electricity
49,675
50,678
Heat sales and other revenues
3,017
2,864
Operating expenses
39,837
43,416
Fuel
12,800
12,957
Purchased power
5,260
7,444
Repairs and maintenance
3,316
4,217
Depreciation and amortization
9,349
8,885
Salaries and wages
3,793
3,584
Nuclear decommissioning and fuel storage
x
x
Materials and supplies
1,954
2,087
Costs of ash storage, air and water pollution and environmental claims
43
349
Other operating expenses
3,322
3,893
Income before other expenses/income and income tax
12,855
10,126
Other expenses/income
2,254
4,917
Interest income
-188
-157
Interest on debt, net of capitalized interest
1,015 966
Interest on nuclear liabilities
1,265
1,230
Exchange rate losses (gains)
216
2,609
Other expenses/income
265
703
Equity in earnings of affiliate
-319
-434
Income before income tax
10,601
5,209
Income tax
3,364
919
Net income
7,237
4,290
| Cash Flow in Accordance with International Accounting Standards (IAS) (CZK m) | 31 Dec 2000 | 31 Dec 1999 |
| --- | --- | --- |
| Cash as at 1 January | 4,357 | 1,007 |
| Operating activities: | 21,475 | 16,829 |
| - Net income | 7,237 | 4,290 |
| - Depreciation and amortization | 9,406 | 9,687 |
| - Amortization of nuclear fuel | 1,630 | 1,568 |
| - Provision for nuclear decommissioning and fuel storage | 399 | 452 |
| - Changes in assets and liabilities | 2,626 | 900 |
| Investing activities | -21,308 | -22,193 |
| Financing activities | -1,305 | 8,714 |
| Cash as at 31 December | 3,219 | 4,357 |
| | 31 Dec 2000 | 31 Dec 1999 |
| --- | --- | --- |
| Net Electricity Generation in the Czech Republic (GWh) | 67,741 | 59,474 |
| - Net Share of Electricity Generation at ČEZ (GWh) | 46,740 | 42,080 |
| Electricity sold by ČEZ in the Czech Republic (GWh) | 37,394 | 40,874 |
| - Electricity sold by ČEZ to REAS (GWh) | 36,565 | 40,488 |
| - Price of electricity sold to REAS (CZK/MWh) | | |
| - incl. auxiliary services, without transmission a dispatch services | 1,078 | 1,073 |
| - incl. auxiliary services | 1,148 | 1,143 |
| ČEZ´s electricity exports (GWh) | 12,429 | 5,642 |
| ČEZ´s electricity imports (GWh) | 814 | 978 |
| Balance Sheet in Accordance with International Accounting Standards (IAS)(CZK m) | 31 Dec 2000 | 31 Dec 1999 |
| --- | --- | --- |
| Assets | 222,260 | 211,489 |
| Fixed assets | 211,384 | 199,056 |
| Plant in service | 177,181 | 170,901 |
| Less accumulated provision for depreciation | 84,228 | 76,153 |
| Net plant in service | 92,953 | 94,748 |
| Nuclear fuel, at amortized cost | 5,764 | 4,913 |
| Construction work in progress | 103,591 | 91,460 |
| Investment in affiliate | 5,225 | 5,024 |
| Other non-current assets, net | 3,851 | 2,911 |
| Current assets | 10,876 | 12,433 |
| Cash | 3,219 | 4,357 |
| Receivables, net | 4,032 | 4,492 |
| Materials and supplies, net | 2,268 | 2,172 |
| Fossil fuel stock | 712 | 797 |
| Prepayments | 645 | 615 |
| Shareholders´ equity and liabilities | 222,260 | 211,489 |
| Shareholders´ equity | 129,442 | 122,205 |
| Stated capital | 59,209 | 59,209 |
| Retained earnings | 70,233 | 62,996 |
| Long-term liabilities | 78,663 | 75,806 |
| Long-term debt, net of amount due within one year | 49,704 | 51,084 |
| Accumulated provision for nuclear decommissioning | | |
| and fuel storage | 20,902 | 18,457 |
| Deferred income taxes | 8,057 | 6,265 |
| Current liabilities | 14,155 | 13,478 |
| Short-term loans | 1,104 | 2,804 |
| Long-term debt due within one year | 4,703 | 2,665 |
| Accounts payable | 5,035 | 4,552 |
| Accrued liabilities | 3,313 | 3,457 |
| Consolidated Statement of Shareholders´ Equity in accordance with IAS (CZK m) | Stated Capital | Retained Earnings | Total |
| --- | --- | --- | --- |
| December 31, 1997 | 59,195 | 39,250 | 98,445 |
| Impact of IAS 37 implementation | | 9,485 | 9,485 |
| December 31, 1997 restated | 59,195 | 48,735 | 107,930 |
| Additional paid-in capital - 1998 | 14 | | 14 |
| Net Income for period 1998 | | 9,971 | 9,971 |
| December 31, 1998 | 59,209 | 58,706 | 117,915 |
| Net Income for period 1999 | | 4,290 | 4,290 |
| December 31, 1999 | 59,209 | 62,996 | 122,205 |
| Net Income 2000 | | 7,237 | 7,237 |
| December 31, 2000 | 59,209 | 70,233 | 129,442 |
| Capacity, Employees | 31 Dec 2000 | 31 Dec 1999 |
| --- | --- | --- |
| Installed capacity ČEZ (MW) | 10,146 | 10,151 |
| Number of employees (pers) | 8,795 | 9,266 |
| Specific number of employees (pers/MW) | 0.867 | 0.913 |