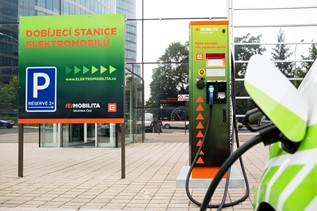 Several new public fast charging stations for electric vehicles (EV) are going to be built on major roads across the Czech Republic—from Rozvadov to Ostrava, from Ústí nad Labem to Břeclav—over the next few months. A total of 42 charging stations allowing charging most standard-capacity batteries within less than half an hour will be built during 2016–2018 by ČEZ Electromobility with the aid of a CEF grant. In addition to these stations, the construction will include a site where ČEZ Electromobility will field-test the integration of charging stations, an energy storage system, and a renewable energy source.
The subsidy for ČEZ's project for"EV Fast Charging Backbone Network Central Europe" was definitely confirmed recently by a Grant Agreement signed by the European Commission, or more precisely its Executive Agency INEA (Innovation and Networks Executive Agency). The total project budget has been set to EUR 2.315 million; this includes EUR 1.968 million from the EC grant, while the remaining 15 percent will be contributed by ČEZ.
"Traveling fast between cities requires building especially fast charging stations capable of serving electric vehicles of all makes and the most widely used charging standards. Thanks to the EU grant under the CEF Transport facility, we can now build such stations much faster. The fact that ČEZ Electromobility is the European Commission's trusted partner in this area is an honor for us and we are ready to fulfill the defined project goals with high quality and reliably," explains Daniel Beneš, Chairman of the Board and General Manager at ČEZ.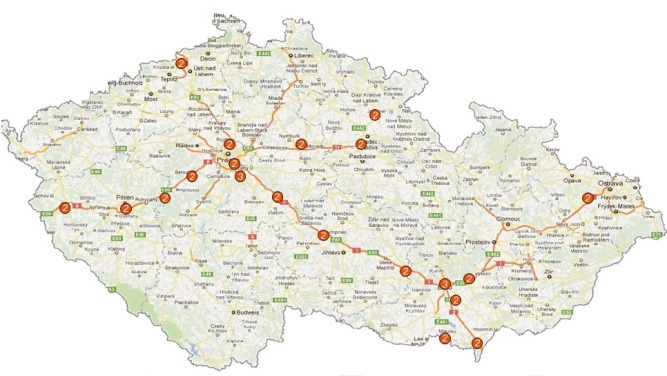 "INEA looks forward to the successful implementation of this action as a significant contribution to the EC's policy on the deployment of alternative fuel infrastructure, fostering not only electromobility in the Czech Republic but also enhancing cross-border interoperability between electric vehicle charging networks in Central Europe so as to enable long distance, inter-city and inter-region journeys," says Xavier Derrey, Project Manager at INEA, about expectations from the construction project.
"This is good news for the development of electric mobility in the Czech Republic. The biggest obstacle to electric mobility development is limited vehicle range. Building a sufficiently dense network of public charging stations is what can eliminate this problem,"says Dan Ťok, Minister of Transportation.
The ČEZ Electromobility project currently operates the largest network of public EV charging stationsin the Czech Republic—offering drivers 25 fast charging stations at 22 locations as well as about fifty "normal"charging stations. More information is available at http://www.elektromobilita.cz/cs/mapa-dobijecich-stanic.html. To use any station in the network, users identify themselves with a unique RFID card before charging.
ČEZ Electromobility operates fast charging stations supplied by ABB Czech Republic. Their standard features include DC connectors of the CHAdeMO and CCS charging standards, which allow charging at up to 50 kW. They also provide AC charging through a Mennekes plug, which supports charging at up to 22kW. Charging using DC connectors allows filling EV batteries up to 80% of their capacity within 20 to 30 minutes.
There are more than a thousand electric vehicles registered in the Czech Republic today. Thirty of them belong to the ČEZ Electromobility project fleet. Similarly to other developed countries in Europe, electric vehicles are becoming a common sight especially in city traffic in the Czech Republic. This is reflected in all fields related to EV sales and servicing.
A recent study by Roland Berger expects that up to 7,000 electric drive vehicles will be sold annually in the Czech Republic by 2020. This is about 3% of the market, just a small notch down from west European countries, where the share is expected to be between 5% and 10%. In the near future, the biggest barriers (narrow choice of electric vehicles, high price, low density of charging infrastructure, and limited customer experience) should be finally eliminated and this, in combination with incentive measures (free access to downtown and parking areas, lanes shared with public transportation, etc.), will quickly bring the share of electric drive to 20% of the total sales of passenger cars and light utility vehicles. This should mean selling about 50,000 vehicles a year, so the Czech Republic should have about 250,000 electric vehicles and plug-in hybrids in operation within 15 years.
Did you know that …
There were 188 new electric vehicles registered in the Czech Republic from January to October this year?
A total of 367 new electric vehicles were registered in the country throughout the past year?
Volkswagen, Nissan, BMW, and Tesla Model S were the best-selling EV makes in the Czech Republicin the first half of 2016?
Further growth in EV registrations can be expected as a result of such factors as new models of electric drive vehicles available to customers or direct (state aid, subsidized purchases) and indirect (favoring alternative drive e.g. in urban traffic) incentives?
The partners of the ČEZ Electromobility project include car makers, shopping centers, commercial entities, and municipal authorities throughout the Czech Republic?