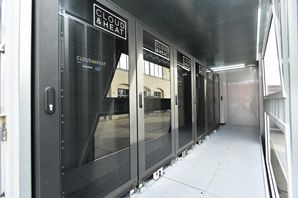 INVEN CAPITAL became a shareholder of Cloud & Heat Technologies last spring. The current increase of its stake, worth several million euros, is a vote of confidence in the company operating in the expanding market of data centers run by large businesses. Half of the investment is funded by the European Investment Bank (EIB), which announced its decision to create a joint investment structure with INVEN CAPITAL in late 2017 and provided investment capital of EUR 50 million to be managed by the fund.
Its unique technologies for utilizing waste heat from servers allow achieving up to 50% reduction in data center operating expenses as compared to conventional solutions. Its major customers include whole companies such as innogy or Fortum as well as, for example, high-rise buildings in Frankfurt.
"The company has been successfully growing for seven years and is well on the way to becoming a hegemon in the segment of services for the data center market. Its solution can use up to 90 percent of waste heat and the company can deliver private, local, plug 'n' play systems, large data centers or 'container' solutions,"explains Petr Míkovec, the managing director of INVEN CAPITAL. CEZ Group has significantly increased its minority stake in Cloud&Heat Technologies with the current investment; its representatives also sit on the company's board of directors. ČEZ expects the investment to expand its expertise in IT as well as to allow deployment in the heat sector.
INVEN CAPITAL is CEZ Group's venture capital fund supported by the European Investment Bank (EIB). EIB financing uses funds from the European Fund for Strategic Investments (EFSI). INVEN CAPITAL's strategy is to seek opportunities for investing in smaller, innovative and growing smart energy businesses in Europe. It primarily focuses on later-stage growth investment opportunities with a sound business model proven by realized earnings and long-term growth potential. INVEN CAPITAL's goal is to generate long-term value through active collaboration with the companies it invests in and to actively support organic or acquisition-based growth strategy. Companies in INVEN CAPITAL's portfolio can take advantage of CEZ Group's extensive expertise in the energy sector, client base, and technology synergies for their further development. The fund is a full member of Invest Europe (https://www.investeurope.eu—European Private Equity and Venture Capital Association) and CVCA (http://www.cvca.cz—Czech Private Equity and Venture Capital Association).
INVEN CAPITAL's first investment in 2015 was in sonnen, the Bavaria-based global leader in the manufacture of smart battery energy storage systems for homes. It then acquired stakes in German companies Sunfire, which develops and puts the most progressive energy technologies into industrial production to help reduce CO2 emissions and develop decentralized energy facilities, and tado°, the European leader in smart thermostats. Last year, it bought a stake in Cloud & Heat Technologies, a German company engaged in the energy utilization of heat from decentralized data centers, and Vulog, a French company that is a major global player in technological solutions for green car sharing. The last investment was the entry into Cosmo Tech, a Lyon-based global technology company, specializes in the development of software platforms to optimize decision-making in the management of critical infrastructure and processes. Since then, certain solutions produced by some of the above-mentioned companies have already become part of CEZ Group's offerings to its customers.