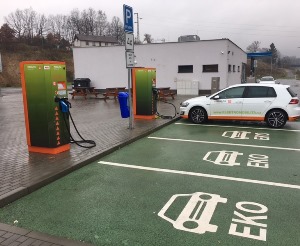 The ČEZ Group's network of public charging stations in the Czech Republic delivered 959,115 kWh of electricity to electric vehicles last year, equivalent to 26,642 fully charged vehicles VW eGolf with battery capacity of 36 kWh. At the same time, it is almost 50% more than in 2017 when electric cars consumed 640,426 kWh across the entire network of "chargers". In 2018, a total of 75,584 charging cycles took place at the network stations, which is more than double the growth compared with 35,902 charging sessions a year earlier. The trend is more frequent charging with smaller volumes. The average electricity consumption per charging session dropped from 17.8 to 12.7 kWh on a year-to-year basis.
The busiest locations are equipped with fast charging stations which, thanks to their 50kW capacity, most electric cars recharge 80% of their battery capacity in about 20-30 minutes. Prague's Corso Court Karlín (61,873 kWh) and Skanska Visionary (41,609 kWh) dominate the locations hit-parade according to the absolute volumes of electricity consumed with charging stations in Olomouc-Nemilany at the town's highway bypass (58,656 kWh) in the second place. The quartet of the most sought-after charging points is complemented by Vestec at the Prague highway ring (40,703 kWh).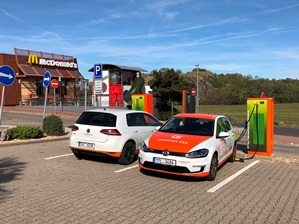 The ČEZ Group's Electromobility operates 140 stations designed to charge electric car batteries in the largest domestic network of public charging stations of which eighty are fast charging. For more information visit http://www.elektromobilita.cz/cs/mapa-dobijecich-stanic.html. Construction is partly funded through two grants of the European CEF programme for the Transport Area whose challenge has been successfully met by ČEZ in the past year and in the year before. The European Commission thus provides support for the interconnection of Europe by building charging stations along the main TENT-T road network.
ČEZ consistently equips new locations with ABB fast charging stations which include, in particular, DC connectors with CHAdeMO and CCS charging standards enabling charging with up to 50 kW. The stations are connected to a cloud platform which allows real-time monitoring and remote diagnostics of the facility.
When using the entire network of charging stations, users identify themselves with the customer's RFID card before charging, or they can pay directly for the quantity taken using the respective application.
There are almost 2500 electric cars currently registered in the Czech Republic. In 2017, 400 electric cars were added and a record of 725 electric cars joined last year. Projections of future development indicate that, within the next few years, annual sales of electric cars and plug-in hybrids will be in the order of thousands. The gradual removal of the biggest barriers (limited choice, high price, low density of charging infrastructure and low customer experience) combined with supportive measures (free entry into city centres, parking zones, permission to drive in lanes dedicated to public transport, etc.) should lead to a quick increase to a 20% share in total sales of passenger and light utility vehicles in the Czech Republic.
The ČEZ Group has been active in the area of electromobility development since 2009. Since the very beginning, its primary activity has been the construction and operation of public charging stations. Today its scope is much wider and includes service to customers from the retail segment (ČEZ Prodej, s.r.o.) as well as service to clients from the business sector, municipalities or regions (ČEZ ESCO). The ČEZ Group provides, for example, design and installation of turnkey charging stations, electrification of car fleets, charging platforms, including IT solutions, rentals or sales of electric cars or wall boxes and charging cables. For local authorities, ČEZ offers the implementation and operation of charging stations for electric buses or design of electromobility concepts in individual towns and regions. For more information visit http://www.elektromobilita.cz/cs/mapa-dobijecich-stanic.html