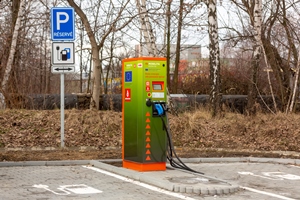 Benzina, the largest petrol station network and part of the Unipetrol refinery and petrochemical group, is gradually expanding its offering by adding the possibility of fast-charging for electric cars. In cooperation with Electromobility from the ČEZ Group, it has started equipping its petrol stations with fast charging points making it possible for most electric vehicles to recharge 80% of their battery capacity within 20-30 minutes.
Last summer, the first pair of fast-charging stands was installed in the Rousínov petrol station near Vyškov at the D1 highway. Other fast charging stands have been currently put into operation in the petrol stations in Ostrava-Zábřeh (near the exit from D1), in Plzeň-Borské pole (at the entry to I/27 direction Klatovy) and in Hradec nad Svitavou (approximately halfway between Hradec Králové and Olomouc, near the future D35 highway). The beginning of mutual cooperation between Unipetrol and ČEZ dates back to 2014 when ČEZ installed a fast charging stand at a Benzina petrol station in Vrchlabí within the so-called Vrchlabí Smart Region.
"We want to offer the widest possible range of products and services at the Benzina petrol stations. In addition to traditional fuels, we also provide alternative fuels, LPG and CNG, and we are gradually expanding our offer to include electricity. In cooperation with ČEZ, we plan to gradually install charging stations at dozens of Benzina petrol stations located in exposed places - cities, highways and first class roads," said Tomasz Wiatrak, Vice Chairman of Unipetrol Group's Board of Directors responsible for retail.
ČEZ is planning to equip the selected locations with fast charging points within a horizon of the next two years. "Our company is the operator of the largest domestic public charging network with 140 stations, of which 80 are fast charging. On the other hand, Benzina is the number one on the petrol station market and its premises with the necessary facilities are natural places to charge electric vehicles. The mutual cooperation with the Benzina network as well as the possibility of financing from European funds helps us significantly speed up the construction of the fast charging stations," said Pavel Cyrani, Chief Officer of the ČEZ Sales and Strategy Division.
Construction is partly funded through two grants of the European CEF programme for the Transport Area whose challenge has been successfully met by ČEZ in the past year and in the year before. The European Commission thus provides support for the interconnection of Europe by building charging stations along the main TENT-T road network. ČEZ consistently equips new locations with ABB fast charging stations which include, in particular, DC connectors with CHAdeMO and CCS charging standards enabling charging with up to 50 kW. The stations are connected to a cloud platform which allows real-time monitoring and remote diagnostics of the facility.
There are almost 2500 electric cars currently registered in the Czech Republic. In 2017, 400 electric cars were added and 725 electric cars joined last year. Projections of future development indicate that, within the next few years, annual sales of electric cars and plug-in hybrids will be in the order of thousands. The gradual removal of the biggest barriers (limited choice, high price, low density of charging infrastructure and low customer experience) combined with supportive measures (free entry into city centres, parking zones, permission to drive in lanes dedicated to public transport, etc.) should lead to a quick increase to a 20% share in total sales of passenger and light utility vehicles in the Czech Republic.
Unipetrol
The Unipetrol Group is the largest refinery and petrochemical company in the Czech Republic. The Unipetrol Group focuses primarily on the processing of crude oil and on manufacturing, distribution and sale of fuel and petrochemical products. In all these areas, the group is a key player on both the Czech as well as Central European market. In 2005, Unipetrol became part of the PKN Orlen Group, the largest processor of crude oil in Central Europe. Unipetrol is one of the largest companies in the Czech Republic in terms of turnover and employs more than 4,600 people. For more information see www.unipetrol.cz and https://twitter.com/unipetrolcz
Benzina
Benzina is part of the Unipetrol Group and operates the largest network of petrol stations in the Czech Republic. It has undergone major development during its more than half a century-long history. Benzina is a traditional, yet modern brand for Czech drivers characterized by high-quality fuels and its customer service. In addition to brand-new fuels with the EFECTA cleaning effect, Benzina also offers VERVA premium fuel and a wide selection of snacks at its gastronomic concept STOP CAFE. Benzina issues its own refuellsing cards EASY and BUSINESS, operating a total of 406 petrol stations and having a market share of 22.9%.
Try the Benzina Payments and Washing Digi Line mobile apps (free download for Android and iOS).
For more information, visit www.benzina.cz, www.facebook.com/Benzina.cz or https://www.instagram.com/benzinacz/
ČEZ Group
The ČEZ Group has been active in the area of electromobility development since 2009. Since the very beginning, its primary activity has been the construction and operation of public charging stations. Today its scope is much wider and includes a service to customers from the retail segment (ČEZ Prodej, s.r.o.) as well as a service to clients from the business sector, municipalities or regions (ČEZ ESCO). The ČEZ Group provides, for example, design and installation of turnkey charging stations, electrification of car fleets, charging platforms, including IT solutions, rentals or sales of electric cars or wall boxes and charging cables. For local authorities, ČEZ offers the implementation and operation of charging stations for electric buses or design of electromobility concepts in individual towns and regions. For more information visit http://www.elektromobilita.cz/cs/mapa-dobijecich-stanic.html