Water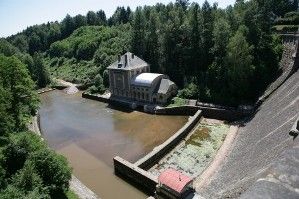 Within the processes of water management and protection, the CEZ, a. s. follows the legislation applicable in the Czech Republic, together with decisions of water regulatory authorities. The CEZ, a. s. manages water systems in both coal and nuclear power plants and utilizes water energy potentials for electricity generation in hydro-plants. CEZ coal and nuclear power plants utilize water received from water sources both efficiently and economically.
The CEZ water management deals, additionally, with Dalesice, Mohelno, Stechovice 2, and Dlouhe Strane hydro plants, as well as with sludge settling basins of particular coal power plants. The Vltava River hydro-plant cascade (Lipno, Hnevkovice, Korensko, Orlik, Slapy, Kamyk, Stechovice, and Vrane) are owned by Povodi Vltavy, s.p. (Vltava River Basin State Enterprise), and the CEZ, a. s. only assumes a position of the hydro-plant operator.
Coal power plants of CEZ, a. s. utilize surface water, in particular, for cooling, water treatment in power & heat plant boilers feeding, as well as for nuclear power plants to refill their primary and secondary circuits. Both quantity and quality of the received water is monitored. The water received must be chemically and mechanically treated before use, to reduce its possible contamination and assure the water quality at the level complying with requirements applicable to its utilization in a power plant operation . The surface water for CEZ coal and nuclear power plants is provided from rivers that belong to Labe, Vltava, Ohre, Morava, and Odra river basins.
Within CEZ, a.s., potable water and, partially, subsoil water, is used for personal consumption of its employees and in sanitation, cooking, and catering facilities.
The waste water comes from technology, heat & electricity production, as well as sewage from sanitary and cooking facilities. Industrial waste water, before its release into recipients (rivers) is treated at the state-of-the-art level. The waster water quantity and contamination is monitored. The sewage waste water leads either to municipality sewage systems managed by water & sewage management companies, or is released into recipients, having being treated in company water treatment plants.
The CEZ, a.s. provides payments for consumption of potable, surface, and subsoil water, as well as for released contamination of waste water, according to relevant legal regulations.
Water Protection
Water use and wastewater discharge is governed by conditions set forth in integrated permits issued by the relevant authorities and in decisions handed down by water regulation bodies. In the period in question, all CEZ Group generation facilities complied with the water protection-related technical terms and conditions of operation imposed in the operation permits issued by the relevant administrative bodies. No accidental discharges of hazardous substances entailing a threat to water quality were recorded.