Orlík Hydroelectric Plant Information Centre

Contact for booking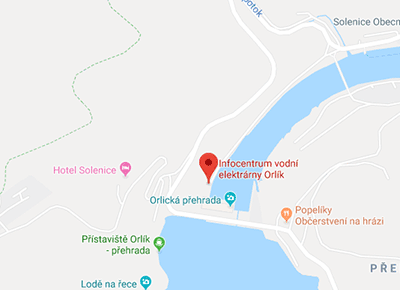 The excursion to Orlík Power Plant must be booked by phone at 737 506 950 (the number is available every day from 6 a.m. to 8 p.m.) or by e-mail pisecko@email.cz
Admission fee CZK 60 / adult CZK 30 / child (from 6 years of age)
Groups: Only based on booking at 737 506 950 or by e-mail pisecko@email.cz
Languages
We are able to provide excursions in other than Czech language (English, German, Russian and Spanish). Please order your excursions at least 7 days in advance.
You will obtain all other important instructions including the time of departure upon booking (always necessary). A different date is possible for groups. The minimum boat capacity is 50 persons, the place of departure can also be changed. In case of school trips the price depends on the number of pupils.
Parking for buses, microbuses: follow the instructions received during booking.
GPS - dam: 49°36'25.909"N, 14°10'49.998"E
GPS - municipality Solenice:49°36'56.839"N, 14°11'46.293"E
Groups of 15 or more persons - year round
A regular excursion takes 45 – 60 minutes. Those interested in a detailed tour, e.g. specialised groups, have to make arrangements in advance during booking. We would like to ask the groups interested in a more detailed presentation to make booking in time. Thank you for your understanding.
Orlík is situated directly on the7 EV7, Vltavská Cycle Route.
Virtual tour
New: Virtual tour!
See the movie about hydropower plants on the river Vltava