The Šumava's Power Information Centre

NEW
Due to the current situation regarding coronavirus, all inspections of our plants and infocentres are temporarily suspended in order to ensure the safety of the plants. We will inform you of their renewal in time. Thank you for your understanding!
When can you visit us?
For more information on opening hours and booking a tour, please send us e-mail at katerina.bartuskova@cez.cz. Excursions are free. Excursions are provided in Czech language. If you are interested in another language, please take your own interpreter.
Vydra and Čeňkova Pila are situated near the Cycle Route Nr. 331 and Nr. 2114.
Nearest public transport stops: stop Srní (bus) and Rejštejn, stop Čeňkova pila (bus)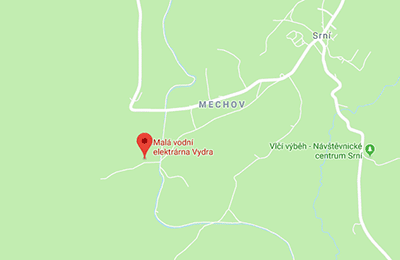 GPS Hydroelectric Power Plant Vydra and Information Centre: 49°06'21.95"N, 13°29'33.95"E
GPS Hydroelectric Power Plant Cenkova pila: 49°06'35.38"N, 13°29'33.29"E
Parking - free parking at the kiosk about 150 m from the information center

Virtual tour
New: Virtual tour! The exhibition contains, among other things, a landscape model of the territory from Modrava to the junction of Vydra and Kremelna, veteran devices as well as hydroelectric power plant models with an active simulation of the technological process.
Visitors can watch some of the topic-related videotapes and see a national technical monument in the vicinity, the small Cenkova Pila Hydroelectric Power Plant built in 1912.
A great part of the exhibition is focused on Vchynicko-Tetov canal. Those who are interested can find information here about CEZ Group and hydroelectric power plants of its member companies.