Trmice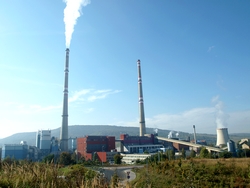 At present Teplárna Trmice has installed six boilers of combined output 469.2 MWt, and six turbo-generators of total output 89 MWe. Furthermore installed in the steam generation plant is a steam-gas power generator of electric output 70 MWe. Through its 125 km long primary heat supply piping, Teplárna Trmice supplies to municipalities on the left bank of the Labe River around 3,700 TJ of heat energy in the form of steam per annum. The Trmice heat generation plan has more than 1300 connection points and supplies heat to approximately 30 thousand households plus a large number of industrial plants in the city. Among its clients are also medical and school facilities, public organisations and clients from the tertiary sector – hotels, shopping and administrative centres, etc. 
Highlights
On 7th May 2010 CEZ, a. s. acquired on the basis of an Agreement to Sale Shares an 85% interest in Dalkia Ústí nad Labem, a.s. from the company's original owner, Dalkia Česká republika, a.s.
Effective from 19/5/2011 Dalkia Ústí nad Labem changed its name to Teplárna Trmice, a. s. Towards the end of last year the two companies agreed that CEZ would exercise the option to buy the remaining 15% of shares, and thus CEZ became a hundred-per-cent owner of Teplárna Trmice, a.s.
Effective from 1/10/2012 Teplárna Trmice, a.s. was split and subsequently the split part spun off and its assets merged with CEZ Teplárenská, a.s.
On 1st October 2013 Teplárna Trmice became part of the organisational unit Teplárna Hodonín, Poříčí and Trmice in the Production Division of CEZ, a.s.
Fotogalerie