Poland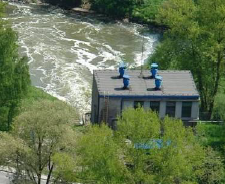 CEZ Group operates in Poland a couple of small hydro power plants with a cumulative installed capacity of about 2.5 MW.This is the power Skawinka and Borek, both located in Silesia.
Skawinka
Small hydro power Skawinka produces clean electricity in the southwest of Krakow.The birth certificate is written in the year of birth 1961.
It is operated by Elektrownia Skawina SA within the same complex coal-fired power plants co-incinerating biomass. The installed capacity of small hydropower plants Skawinka is 1.6 MW.
Borek
In mid-2013 was launched small hydropower plant Borek with installed capacity of 865 kW. Source of clean energy lies near Krakow. Located on the dam nautical-energy channel, which was built in the mid 50th the last century. Is it linked to other energy channel, which is used for cooling blocks coal plant Skawina. Power Borek has a Kaplan turbine gradient of 11 m and flow rate of 9 m3/ s.
Fotogalerie