CEZ, a. s. - Nuclear Power Plants
CEZ, a. s. – Nuclear Power Plants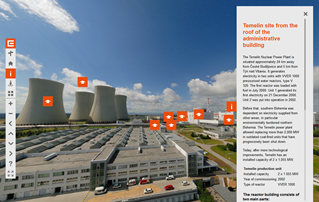 Stroll through the Nuclear power plant Temelín!
Both of our nuclear plants passed a series of stress tests, demostrating resistance to extreme natural influences and the capacity to withstand even very grave situations without threatening their surrounding areas. Based on the experience and lessons of the Fukushima nuclear power plant accident, certain requirements were identified for further increasing the resistance of nuclear power plants, particularly in conjunction with extreme natural phenomena. Yet still, we will continue to improve them because safety has always been, and always will be, our first priority.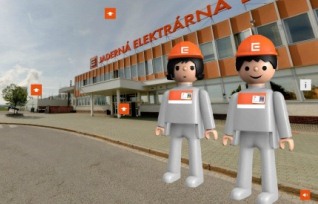 Stroll through the Nuclear power plant Dukovany!
The power plant´s modernisation will successively be carried out to the end of its planned service life. At present, however, in view of the high quality of its main structural components, an extension of its service life by ten years, i.e. to a total of forty years of operation is being considered.
The safety of the nuclear power plant´s is achieved by the design safety and the power plant's operational culture level, which includes qualified personnel, quality documentation, use of operating experience, technical control, protection against radiation, fire safety, etc.
Dukovany Nuclear Power Plant
Nuclear power plant Dukovany consists today of four 510MW units which were put into service from 1985 to 1987 and have been refurbished and enhanced later. In 2011, the installed power output of the power plant amounts 2 040 MW and represented nearly 10% of the total capacity installed within the power utility.
Fuel for Dukovany Nuclear Power Station is sourced under a long-term contract with Russia-based OAO TVEL, which not only fabricates the fuel, but also provides conversion and enrichment services as well as some of the base raw material (uranium). In 2011, only the improved, latest version of the VVER 440 second-generation fuel was supplied.
Selected Events of 2014:
December - annual output of the Dukovany Nuclear Power Station reached 15.370 billion kWh.
Selected Events of 2013:
December - Dukovany Nuclear Power Station broke its previous record, when its output reached 15.576 billion kWh.
Temelín Nuclear Power Plant
Two production units with 1,078 MW and 1,055 MW of power output capacity. The Skoda Praha Company assumes the role of chief supplier.
Selected Events of 2014:
December - annual output of the Temelín Nuclear Power Station reached 14.95 billion kWh
Selected Events of 2013:
January - Ministry of the Environment of the Czech Republic issues a positive opinion in Environmental ImpactAssessment (EIA) process for construction of two reactor units at Temelín Nuclear Power Station
Selected Events of 2012:
May - license obtained from State Office for Nuclear Safety to operate Unit 2 of Temelín Nuclear Power Station, valid until May 31, 2022.
July - envelopes containing bids from three qualified bidders to build new reactor units at Temelín Nuclear Power Station received and opened.
October - Areva disqualified from the tender to build new reactor units of Temelín Nuclear Power Station for failure to meet public procurement requirements. Areva filed objections against the disqualification, but these were rejected by ČEZ, a. s.
November - zoning permit application for two new reactor units at the Temelín site filed with the State Office for Nuclear Safety.
December - On December 25, 2012, Temelín Nuclear Power Station generated its 15 billionth kWh of electricity, thereby meeting the goal of the SAFELY 15 TERA project.
Nuclear Power Plants
Installed power output
Year of commission
Dukovany
4 x 510
1985 - 1988
Temelín
1 x 1,078 + 1 x 1,055
Unit 1 - 2002
Unit 2 - 2003
The fuel cycle
In 2012, over 87.5 TWh of electrical power was produced in the Czech Republic, of which CEZ, a. s. produced more than 73% (64 TWh).
The nuclear energy industry cover more than 40% of electrical power consumption in the Czech Republic.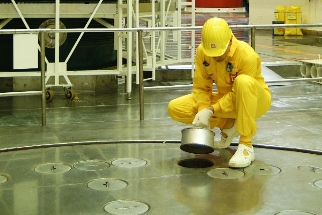 The Dukovany Nuclear Power Plant has four 510 MW units with VVER 440/213 pressurised water reactors. The particular units were commissioned in the period from 1985 – 1987. In the Temelín Nuclear Power Plant there are two 1,055 MW units with VVER 1000 pressurised water reactors installed. As far as the power output is concerned, nuclear power plants occupy leading positions in the list of Czech Republic power plants.
The fuel of both Czech nuclear power plants is uranium dioxide UO2, where uranium is slightly enriched with the 235 fissile isotope (for 2-4% of the uranium total amount; there is only 0.7% of 235 isotope in natural uranium).
The atomic act passed by the Czech Parliament in 1997 requires that all radioactive waste originators, and therefore CEZ, a. s. as well, bear the costs associated with radioactive waste depositing after its origination, with safety and security measures concerning the deposits included. The guarantees for a safe deposit of all the radioactive waste, including spent nuclear fuel, are provided by the state, which established the Radioactive Waste Deposit Management Office (SURAO), in order to comply with the requirements stipulated in the law.
Activities provided by SURAO are financed from the nuclear account. All radioactive waste originators contribute to the account. CEZ, a.s. contributes an amount in proportion to the energy quantity produced from nuclear power plants. This amount represents approximately 5% of the electrical power acceptance price. CEZ, a. s. generates a separate accounting provision to cover the costs associated with power plant decommissioning after the end of their operation.
The Dukovany Nuclear Power Plant produces less than 44 tons of spent nuclear fuel annually. Both nuclear power plants will produce 3,000 tons of spent nuclear fuel during their entire operation periods. The spent nuclear fuel produced by Dukovany NPP was initially transported into an intermediate storage facility situated in the Jaslovske Bohunice NPP area in Slovakia, from where it was expected to be gradually removed on the basis of an international treaty concluded with the (former) Soviet Union. The Russian Federation, however, as one of the successor states of the Soviet Union withdrew from these obligations. Following the split of Czechoslovakia, spent nuclear fuel from Dukovany NPP suddenly appeared on the territory of a foreign state whereby the Czech Republic accepted a return transport of the fuel assemblies into its own intermediate storage facility built in the Dukovany NPP area. The intermediate dry storage facility, with its 600 tons of spent nuclear fuel capacity, comprises 60 dual-purpose (transport and storage) Castor 440/84 delivered by GNS Nukem, a German supplier.
In 2005, the existing storage capacity of the Dukovany spent nuclear fuel intermediary storage capacity shall be used up. Therefore, design works have started on an extension of the storage capacity. The spent nuclear fuel from Temelín NPP shall be stored in a storage facility situated within its area and its construction is envisaged in the near future. Concurrently, CEZ a. s. continues with a collection of background information for the design of a storage facility situated outside of the nuclear power plant area. A central deposit for spent nuclear fuel is projected to be constructed in the "Skalka" location near the Zdar nad Sazavou district. This project is being prepared as a backup in case the next construction of storage capacities may not be implemented in the area of the nuclear power plants for some reason. The technical solution envisaged for all options of spent nuclear fuel storage, i.e. both construction and operation of a dry storage facility, is very progressive and in line with world standards.
The spent nuclear fuel shall be placed into the storage facility for the period of a few dozens of years. Its temperature shall drop to a level at which it could then be deposited into a final deep depository, where further supervision would not be necessary. As previously stated, works related to the final storage of spent nuclear fuel are ensured by the Radioactive Waste Storage Management Office (SURAO).
Additionally, CEZ, a. s. is monitoring options of spent fuel recycling before its final deposition. As a long-range option for spent nuclear fuel energy utilisation, there are ADTT procedures available, i.e. accelerator-driven transmutation technologies. These are technologies orientated towards utilisation of the enormous nuclear power potentials, which the present types of reactors cannot release from the fuel, as well as towards nuclear transmutations of long life-span radionuclides to make the period when waste is dangerous due to radioactivity substantially shorter.