Oreshets (Bulgaria)
The photovoltac plant occupies an area of 10 ha. It was built in the place of an abandoned wood processing plant located in Oreshets industrial area. CEZ invested another 150,000 leva into the reconstruction of its transmission grid and the existing substation in the area. As a result of this eco-friendly electricity production 6900 tons of climate-damaging CO2 will be saved annually.
 "Being a company which realizes its responsibility towards Bulgarian society and economics, we are willing to invest in other big projects which will contribute to improvements in the state of Bulgarian energy sector and the diversification of energy supplies. Our project is another step, albeit a small one, towards the fulfillment of Bulgaria's national goal of reaching 16% share of renewable energy sources in gross energy consumption," said at the opening of PVP "Oreshets" PVP Petr Dokladal, regional manager of CEZ for Bulgaria.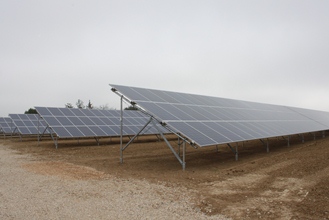 PVP "Oresehets" is CEZ's first investment in renewable energy in Bulgaria. The project was realized as part of CEZ's commitment, in the framework of the privatization of Varna power station, to invest EUR 40 million in clean energy projects in Bulgaria.
"We decided to invest in one of EU's poorest regions because we firmly believe in the economic potential of this region. I hope that other companies will soon follow our example. The development of such innovative projects in poor regions can have a double positive effect for the community by protecting the environment and increasing the region's investment rating," said Petr Baran, Vice Chairman of the Management Board and Chief Operational Officer of CEZ Bulgaria EAD.
The photovoltaic plant was designed and built in 3 months by the German company Solea. The project was managed by Continental Wind Partners, one of the leading global investors in clean power in Eastern Europe.