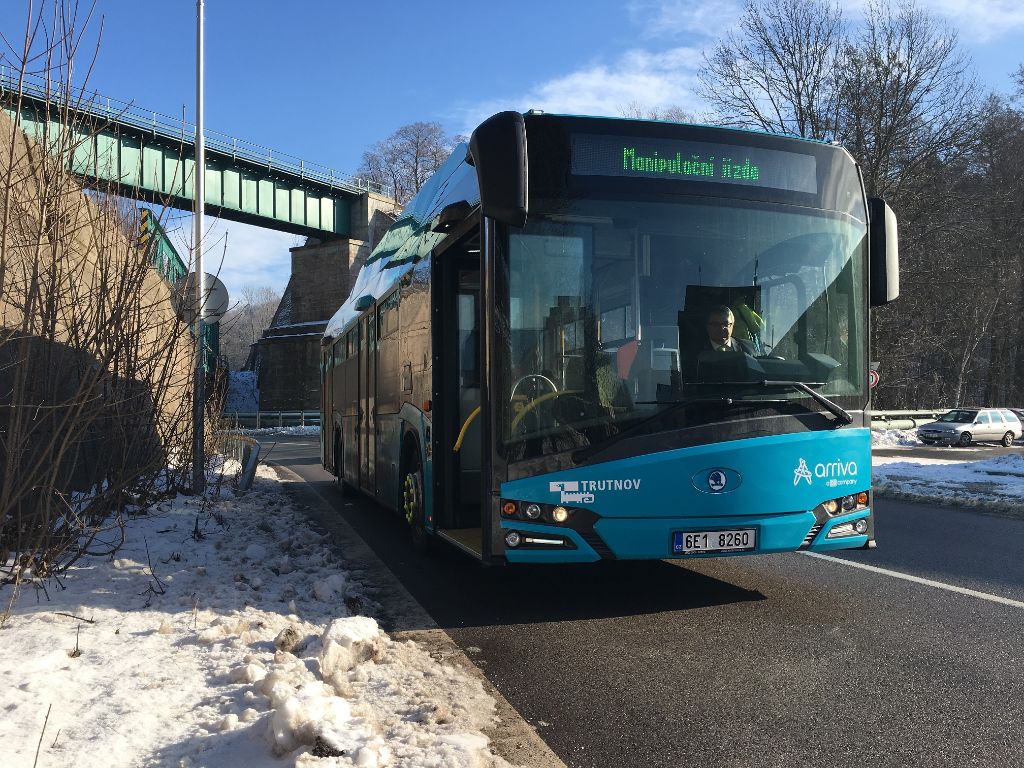 "Today, Trutnov is unique in the Czech Republic as regards the ecologization and modernization of public transport. The new bus fleet is much more environmentally friendly than conventional buses, which will be welcomed by local people," explains Ivan Adamec, Mayor of Trutnov.
Seven new eco-friendly buses will be available in operation since February. They include four Škoda 26 BB electric buses and three SOR NBG 18 buses. "We chose shorter electric buses especially with regard to local rugged terrain and difficult winter conditions. In addition to electric buses, we will also deploy three natural gas-powered articulated buses,"says Jindřich Poláček, Chairman of the Board of Directors of Arriva Eastern Bohemia, adding: "We will offer to our passengers pleasant travelling in low-floor, air-conditioned and environmentally friendly buses equipped with a modern check-in system with the possibility of cashless payment by a contactless bank card."A total of six CNG buses and four electric buses will be operated in Trutnov after the vehicles are put into operation.
The process of charging electric buses
Charging of electric buses will be provided by one fast charging station supplied by ČEZ ESCO and four normal Škoda charging stations. The energy for operation of the charging facility for electric buses is ensured by direct connection to the Poříčí Power Plant from the ČEZ Group. The connection of charging stations, supply of distribution mains and other related services will be provided by ČEZ ESCO. "In addition to the distribution mains for the five charging stations, we will provide their servicing and operation for five years, including the Next Business Day service, i.e. putting the station into operation as soon as possible if a failure occurs. We also plan to collect the data measured and evaluate the operation of the entire system. We have also arranged everything related to the financing of our delivery, for our client," adds Kamil Čermák, CEO of ČEZ ESCO.
A unique feature of the entire solution is the first domestic installation of a fast charging station by ABB, enabling charging power of up to 150 kW. This station is able to replenish most of the electric bus battery capacity in several tens of minutes. In addition, it is complemented by an extensive range of connectivity features, including remote monitoring, control, diagnostics, and software updates. "ABB's state-of-the-art charging station has significant benefits for public transport operators in Trutnov as well as for other towns that intend to introduce green public transport. Several towns in the Czech Republic have shown interest in the charging technology based on international standards. At the customer's request, ABB can also offer a short-term pilot project. As part of this, customers can test the charging device on a particular route and evaluate the technical and social benefits of ABB's solution based on this test operation. We are convinced that our technology will make a significant contribution to a better life for town dwellers," said Tanja Vainio, CEO of ABB Czech Republic.
  Selected technical specifications of the buses
 
CNG articulated bus (3)
 Electric buses (4)
Business name
SOR NBG 18
ŠKODA 26BB
Bus length (mm)
18,750 mm
12,000 mm

Occupancy:

total places

places to sit

places to stand

144

44

100

65

28 + 3 (folding seats)

34
About Arriva
ARRIVA operates 2,150 buses, 35 trolleybuses, 5 passenger trains, and employs almost 3,500 employees in the Czech Republic. The Group's total turnover exceeds CZK 4.5 billion. The main activity of the group is a regular bus transport service. ARRIVA has a leading position in the regular passenger bus transport market in the Czech Republic. It transports over 130 million passengers annually. ARRIVA in the Czech Republic is part of the ARRIVA Group, one of the leading providers of passenger transport in Europe, employing nearly 60,000 people and delivering more than 2.2 billion passenger journeys across 14 European countries each year.
Did you know that …
In various forms,the ČEZ Group is already engaged in the operation of electric buses in Prague, Třinec, Vrchlabí, Olomouc or Nový Jičín.
ČEZ Group is also building the necessary infrastructure for the expansion of electric vehicles in the East Bohemian region. There are currently 14 public charging stations (including 7 fast charging stations) - e.g. in Hradec Králové, Pardubice, Vrchlabí or Hradec nad Svitavou near the future D35 highway. In the foreseeable future, stations are prepared for other locations. Overall, ČEZ Electromobility currently operates more than 140 public charging stations in the Czech Republic. A current map of locations with charging stations and a comprehensive set of information are available at www.elektromobilita.cz
ČEZ ESCO from the ČEZ Group offers a wide range of related services and products for companies, municipalities and regions in the field of electromobility. This includes, for example, design and installation of turnkey charging stations, electrification of car fleets, charging platforms, including IT solutions, rentals or sales of electric cars or wallboxes and charging cables. For local authorities, ČEZ offers the implementation and operation of charging stations for electric buses or design of electromobility concepts for individual towns and regions.
Last year, 725 new electric cars were registered in the Czech Republic, which is 81% more than for the whole of 2017 (400).
In 2018, Volkswagen, Nissan and BMW were the best-selling brands in the Czech Republic.
In the network of public charging stations of the ČEZ Group, customers consumed more than 959 thousand kWh of electricity last year.
ČEZ also offers its Electricity for Charging product which lowers the costs of electric car use and guarantees the supply of green electricity to the customer's household.
Considering all 2500 electric vehicles with the average annual mileage of 15,000 km, average consumption of 15 kWh/100 km, then 5.6 million kWh / year of electricity would be needed for charging (which is the annual consumption of approximately 1800 Czech households).
A further increase in electric vehicle registrations can be expected, among other things because the offer is extended with new electric car models.