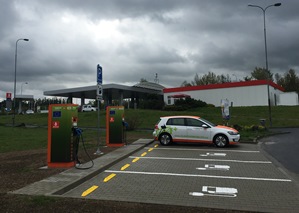 Benzina, the largest chain of filling stations in the Czech Republic that is part of the refinery and petrochemical group Unipetrol, is gradually expanding its offer with fast charging of electric vehicles. Together with Elektromobilita unit of the ČEZ Group, Benzina continues installing fast chargers at its outlets which allow 80% of the battery capacity of most e-vehicles to be recharged in about 20-30 minutes. Two new fast chargers have been recently deployed on Benzina's sites in the west of Bohemia – one is available on KM 110 of Motorway D5 in the direction to Rozvadov and the other one in Bochov on Road I/6 (future Motorway D6) in the direction to Karlovy Vary.
"We want to offer as wide a portfolio of products and services at out Benzina stations as possible. In addition to conventional fuels, we offer alternative fuels – LPG and CNG – and we are also gradually introducing electrical energy. Together with ČEZ, we plan to install chargers at dozens of Benzina stations situated in busy locations – in towns and cities, along motorways and first-class roads," said Tomasz Wiatrak, Vice Chairman of the Board of Directors of the Unipetrol Group who is in charge of retail activities.
ČEZ plans to deploy fast chargers at selected locations in two years. "We run the largest network in the Czech Republic with more than 150 public charging stations, including 94 fast chargers. We will need hundreds of charging points in the coming years thanks to the fast development of electromobility in the Czech Republic. Our collaboration with Benzina helps us accelerate the construction of this network," said Pavel Cyrani, Director of the Business and Strategy Division of ČEZ.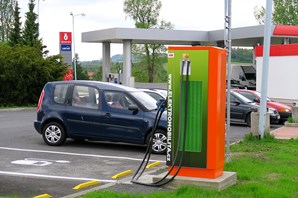 ABB fast chargers are equipped with DC connectors with CHAdeMO and CCS charging standards with an output of up to 50 kW. The charger also offers AC charging with a standard Mennekes connector allowing to charge at an output of up to 22 kW.
Eight Benzina outlets throughout the Czech Republic currently offer ten fast chargers of ČEZ. Unipetrol and ČEZ installed the first two fast charging stations at the Benzina station at the D1 motorway in Rousínov u Vyškova. This installation was followed by the deployment of chargers in Ostrava-Zábřeh (nearby the slip road from D1), Plzeň-Borská pole (at D5), Hradec nad Svitavou (about halfway between Hradec Králové and Olomouc, nearby the future D35 motorway) and in České Budějovice. The beginning of the mutual cooperation of Unipetrol and ČEZ dates back to 2014 when ČEZ installed a fast charger at a Benzina station in Vrchlabí as part of the Smart Vrchlabí Region project.
The construction of the network of ČEZ chargers is partly funded through two grants of the CEF Programme for the Transport Segment where ČEZ succeeded in the calls announced in 2017 and 2018. The European Commission uses this programme to support interconnection of Europe by building charging stations along the main TEN-T road network. ČEZ consistently installs ABB chargers in all locations. Their standard equipment includes DC connectors with CHAdeMO and CCS charging standards enabling to charge with an output of up to 50 kW. The stations are connected to a cloud-based platform allowing real-time monitoring and remote diagnostics of the device.
Unipetrol
The Unipetrol Group is the largest refinery and petrochemical company in the Czech Republic. It focuses primarily on crude oil processing, distribution and sale of fuel and petrochemical products — particularly plastics and fertilizers. In all these fields, the group is a key player on both the Czech and Central European market. The Unipetrol Group includes refineries and production plants in Litvínov and Kralupy nad Vltavou, Paramo with the Mogul brand in Pardubice and Kolín, Spolana in Neratovice, and two research centres in Litvínov and Brno. Unipetrol also owns the Benzina network of petrol stations with 412 stations, which is the largest chain in the Czech Republic. Unipetrol is one of the largest companies in the Czech Republic in terms of turnover. The group created revenue of over CZK 130 billion last year and employs more than 4,700 people. In 2005, Unipetrol became part of the PKN Orlen Group, the largest crude oil processor in Central Europe. For more information see www.unipetrol.cz and https://twitter.com/unipetrolcz
Benzina
Benzina is part of the Unipetrol Group and runs the most extensive network of filling stations in the Czech Republic. It has undergone a rich development over 61 years of its existence. It is a traditional, yet modern brand for Czech drivers characterised by top-quality fuels and first-class customer services. In addition to EFECTA fuels with a purifying effect, Benzina offers premium fuels VERVA and a wide selection of refreshments as part of its STOP CAFÉ concept. Benzina also issues its own fuel cards, EASY and BUSINESS. It operates 409 filling stations in the Czech Republic and has a market share of 23.2%. It entered the Slovak market this year when it rolled out its first filling station in Malacky in April.
Try out our mobile applications Benzina Platby and Mycí Digi Linka (free download for Android and iOS).
For more information, go to www.benzina.cz, www.facebook.com/Benzina.cz or https://www.instagram.com/benzinacz/
ČEZ Group
The ČEZ Group has been active in the area of electromobility development since 2009. Since the very beginning, its primary activity has been the construction and operation of public charging stations. Today its scope is much wider and includes a service to customers from the retail segment (ČEZ Prodej, s.r.o.) as well as a service to clients from the business sector, municipalities or regions (ČEZ ESCO). The ČEZ Group provides, for example, design and installation of turnkey charging stations, electrification of car fleets, charging platforms, including IT solutions, rentals or sales of electric cars or wall boxes and charging cables. For local authorities, ČEZ offers the implementation and operation of charging stations for electric buses or design of electromobility concepts in individual towns and regions. For more information visit http://www.elektromobilita.cz/cs/mapa-dobijecich-stanic.html.
ČEZ, a. s.                                                                     UNIPETROL RPA, s.r.o.                  
Martin Schreier                                                             Pavel Kaidl          
Spokesperson                                                              Spokesperson    
Tel. 725 765 848                                                           Tel. 736 502 520