On the basis of the companies' agreement, EUROVIA CS Group will switch to an environmentally friendly operation of all of its facilities, establishments, and construction sites, as of 1 January 2022. In particular, it will purchase electricity generated from nuclear sources. The system of supply of emissions-free energy from nuclear sources has been verified by Bureau Veritas Services CZ.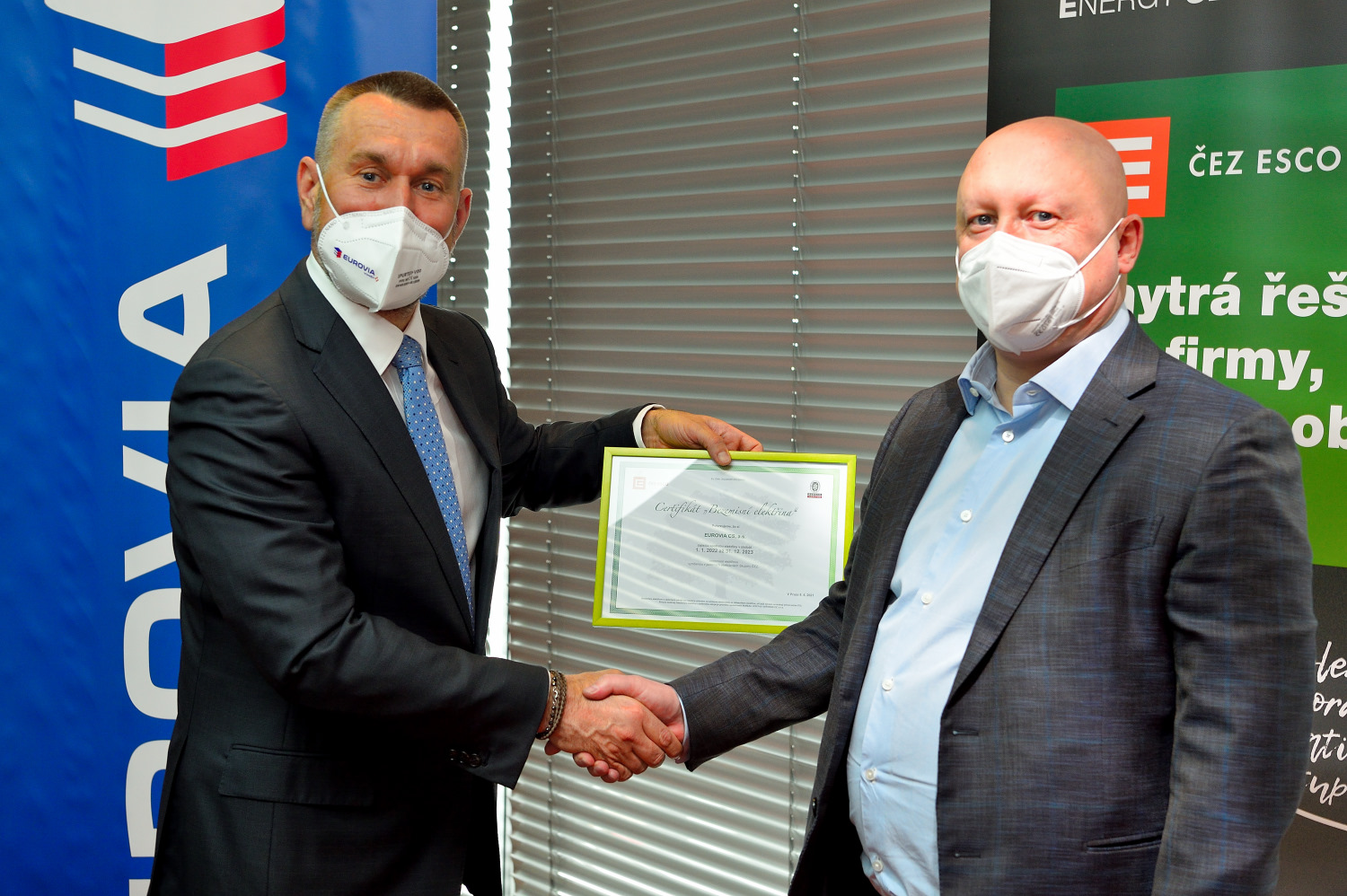 "We are gradually implementing a number of environmentally friendly measures in all our operations. The new agreement about power supply from nuclear power plants concerns our nearly 140 branches dispersed throughout the country. This means that for future generations we will be leaving not only high-quality roads, but also a significantly reduced carbon footprint. That is good news that we can share with our customers and business partners," says Chairman of the Management Board and CEO of EUROVIA CS, Ing. Martin Borovka.
For the time being, the company has signed the agreement on emissions-free power with ČEZ ESCO for two years, during which it will purchase 66,000 MWh, saving more than 39,000 tonnes of CO2.
"We are pleased that an increasing number of companies are taking heed of the environmental impact of their business and they are not indifferent to the condition in which we pass the environment onto our children. If the Czech Republic is to be carbon-neutral, it will have to rely exclusively on emissions-free sources in the future, which means renewable sources and nuclear power. I am glad that Eurovia has opted for supply from nuclear sources. It is often forgotten that, next to hydro power plants, nuclear sources are the second most important source of electricity with a zero carbon footprint," says CEO of ČEZ, Daniel Beneš.
Pressure for a reduction in greenhouse gas production is based on European climate commitments. Last year, EU member states agreed to tighten the climate targets for 2030, with total emissions having to be reduced by at least 55 percent compared to 1990. Europe aims to achieve carbon neutrality by 2050.
The entire process of handling emissions-free power is fully transparent and verified by the independent external certification authority Bureau Veritas. A customer gets a certificate confirming that he has purchased power from a Czech emissions-free source. For more information see: https://www.cezesco.cz/cs/produkty/bezemisni-elektrina
The EUROVIA CS Group, aside from constructing roads and motorways, bridges, railway and tram projects, also builds local roads, renews public spaces, such as squares and streets, and also historical parts of towns. It also builds bike trails, playgrounds, airport areas, or waterworks, including flood-prevention measures. The company has a strong background in raw materials, owning quarries, asphalt plants, and recycling yards. It is also able to take care of the roads it builds, providing seasonal maintenance. The EUROVIA CS construction group is a socially responsible corporation that cares deeply about adhering to a thorough, professional, and responsible approach to its partners, customers, and the public, and about its relationship to the environment.
For more see www.eurovia.cz
ČEZ ESCO (Energy Service Company), a ČEZ subsidiary providing comprehensive coverage of the energy requirements of companies, municipalities, and institutions of all kinds. It supplies electricity, gas, and heat, purchases electricity, trades in emissions allowances, offers energy audits and consulting, construction of power facilities, co-generation units, and rooftop photovoltaic power plants. It also operates many of its customers' power facilities for them, providing maintenance and servicing. ČEZ ESCO also supplies services related to public and corporate electro-mobility. ČEZ ESCO has nearly 2000 employees and its subsidiaries include AirPlus, AZ KLIMA, Bytkomfort, ČEZ Distribúčné sústavy, ČEZ Energetické služby, ČEZ ENERGO, ČEZ LDS, ČEZ Servis, ČEZ Solární, Domat, E-Dome, ENESA, ESCO Slovensko, HORMEN, KART, KLF-Distribúcia, and Spravbytkomfort. For more see www.cezesco.cz.